Equipped with FUSO's standard suite of advanced safety features – autonomous braking, lane departure warning and electronic stability control – plus more, the new Euro 6 medium-duty Fighter joins FUSO Canter and FUSO Shogun in providing an exceptional level of protection for drivers and other road users.
The introduction of this new range makes FUSO the first brand in New Zealand to provide advanced safety features as standard across light-duty, medium-duty and heavy-duty truck categories. New Fighter is also the only medium-duty Japanese truck with Sideguard Assist and a Euro 6 certified drivetrain.
"It's about doing our best to help everyone get home safely after every trip, which is central to our commitment that 'We Look After Our Own'," says Fuso New Zealand managing director Kurtis Andrews. "It has always been our goal to provide a superior level of safety for operators across every vehicle class. With the introduction of the new model Fighter, we now have a united offering that delivers on that goal."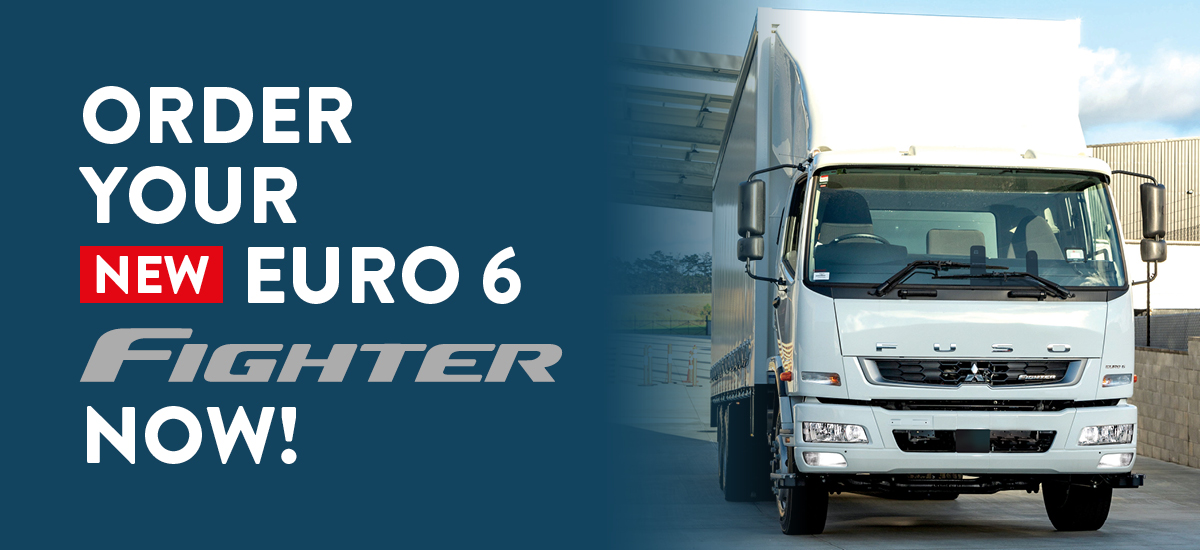 A medium-duty truck with first-rate safety features
Equipped with an Active Emergency Braking System, Lane Departure Warning, and Electronic Stability Control, the new Fighter also comes with Driver Attention Assist Monitoring and introduces Active Sideguard Assist as standard* – a first for Japanese trucks.
Additional safety upgrades include a front underrun system, which provides added protection in the event of a collision by dissipating impact forces and preventing cars from running under the front of the cab.
Euro 6 models also feature daytime-running lights, fog lights, and an adjustable speed limiter.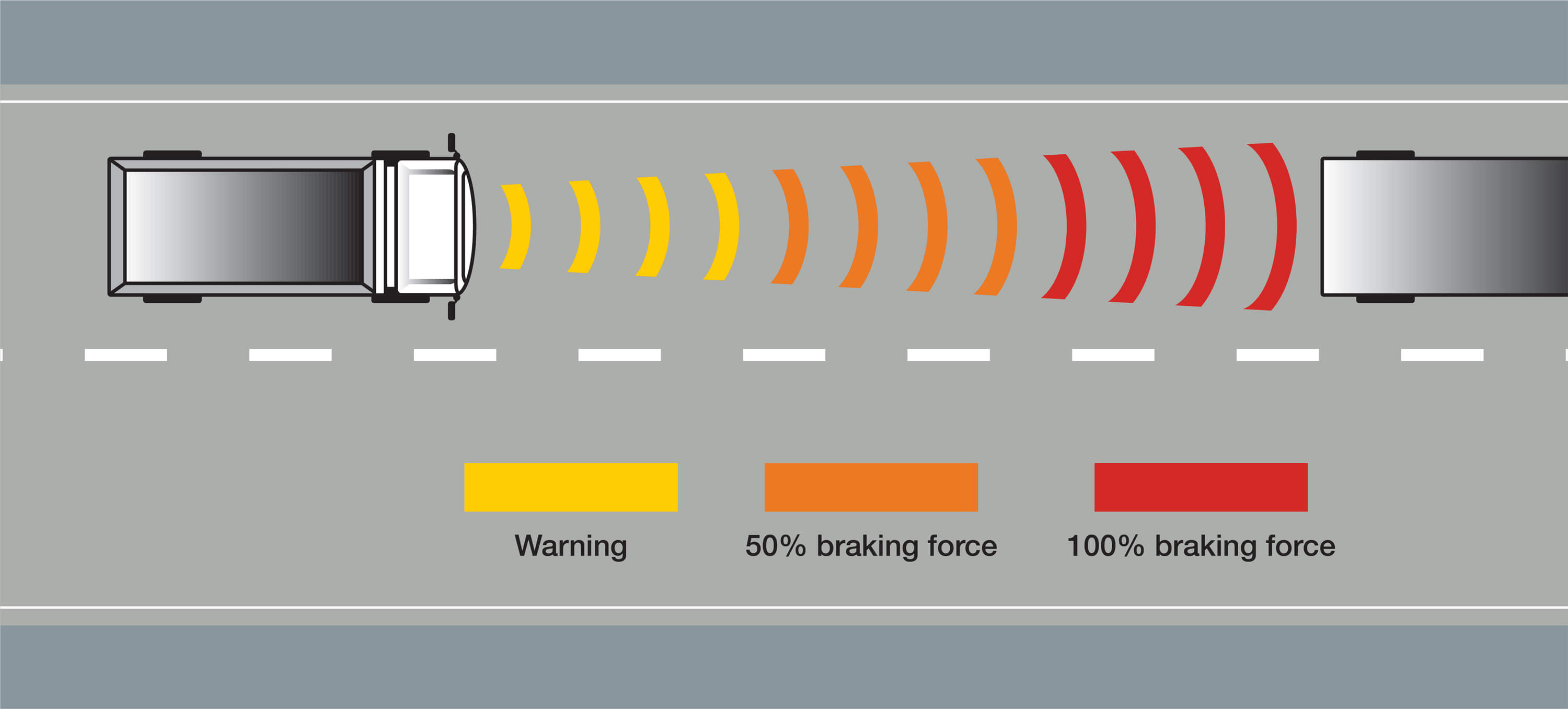 ACTIVE EMERGENCY BRAKING SYSTEM
AEBS helps to avoid or mitigate collisions by using a radar to monitor the road ahead.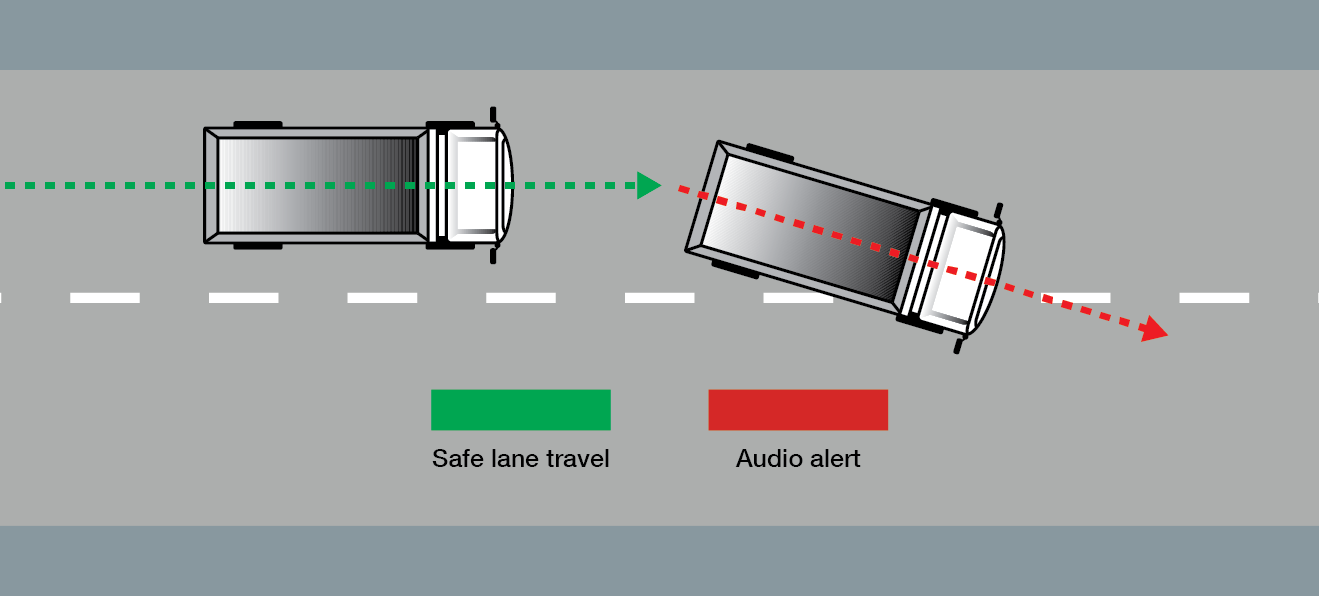 LANE DEPARTURE WARNING SYSTEM
LDWS reduces the risk of lane departure accidents by using a camera behind the windscreen, which detects lane markings and triggers an alert if the vehicle crosses with no indicator.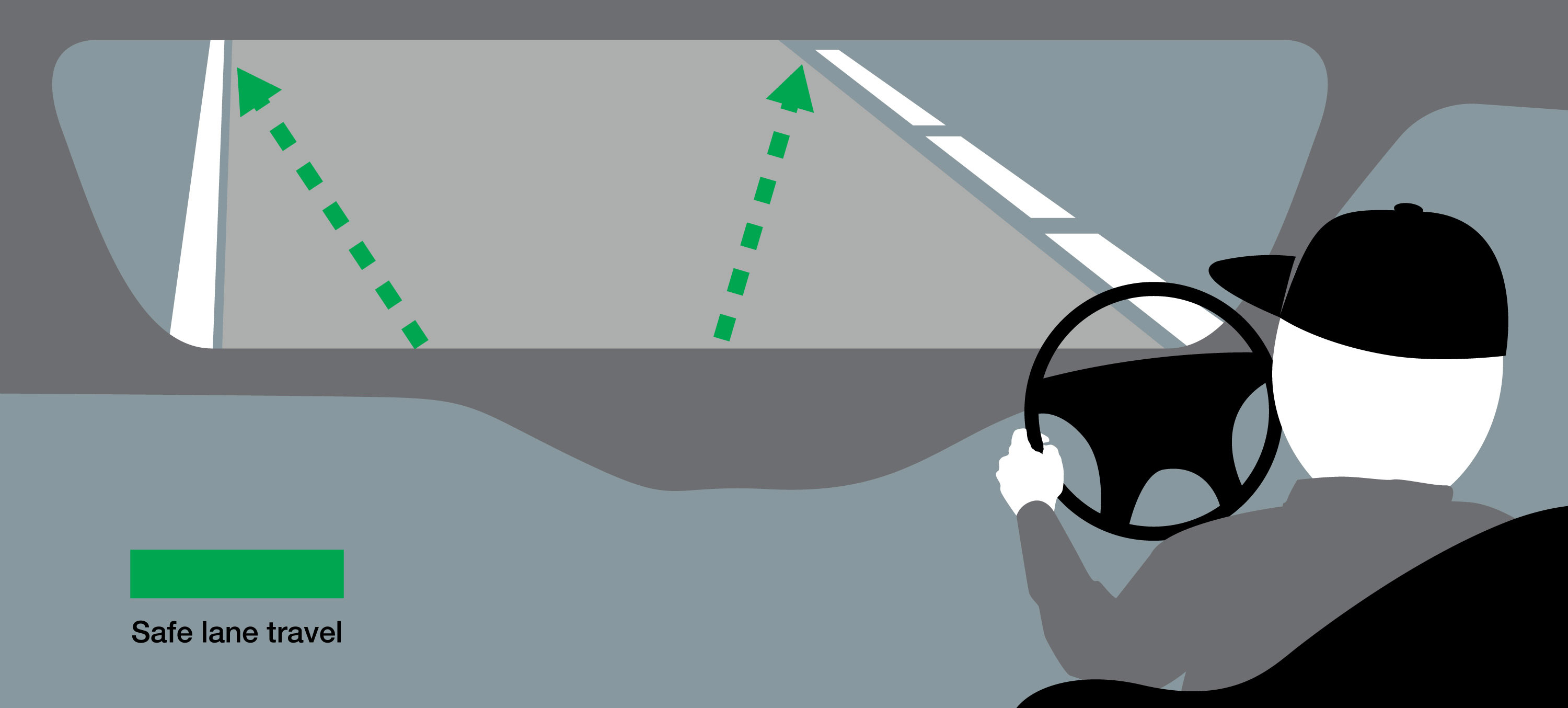 ACTIVE ATTENTION ASSIST (DRIVER FATIGUE MONITORING)
This system employs a range of inputs – steering behaviour, the truck's path between lane markings, driver reactions – to register signs of driver fatigue and issue an alert if these are detected.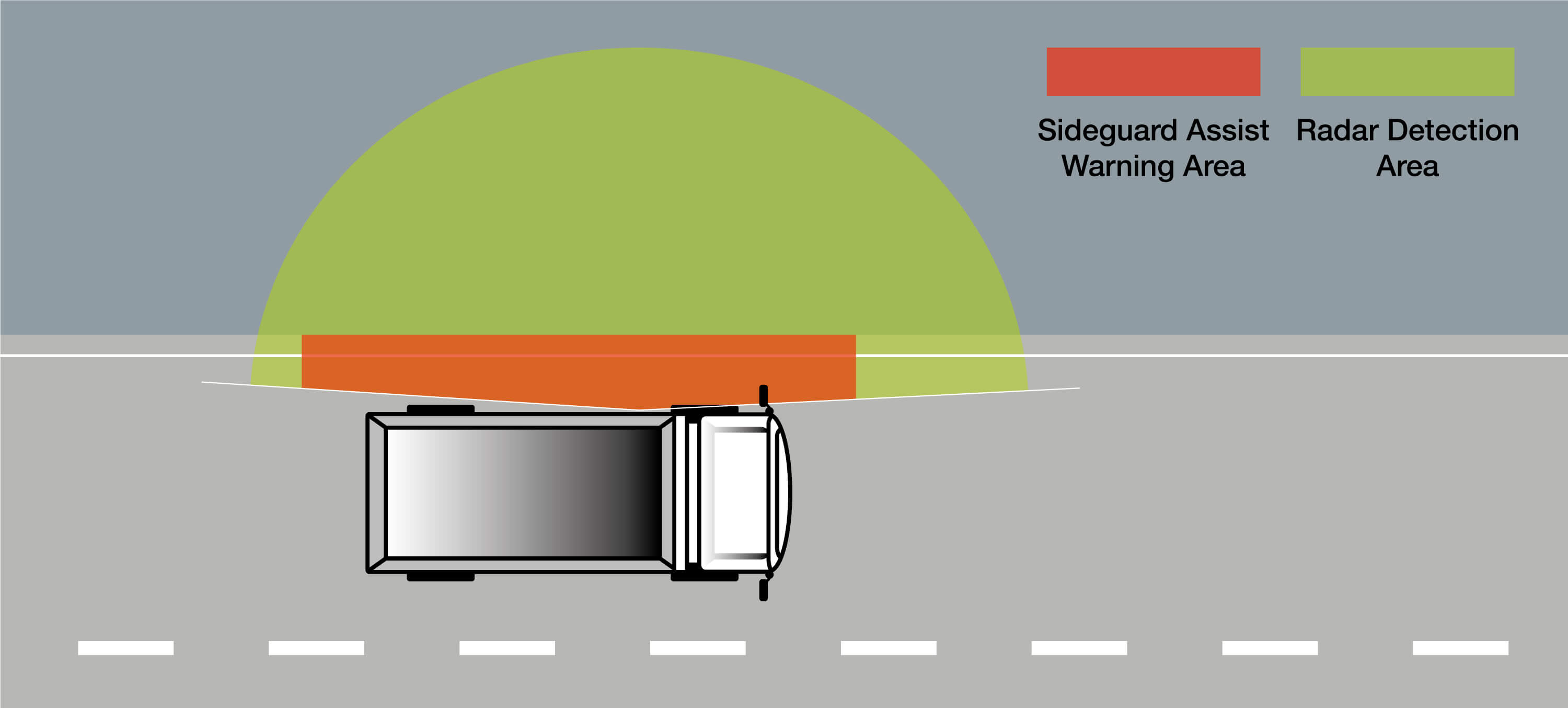 ACTIVE SIDEGUARD ASSIST
ASGA detects moving objects on the left-hand side of the vehicle. If an object is detected, an eye-level warning light is triggered to attract the driver's attention to the left-side wing mirrors. If there is a risk of collision, the warning light flashes red. After two seconds, it remains permanently illuminated in red and, in the event of an imminent collision, a warning tone also sounds.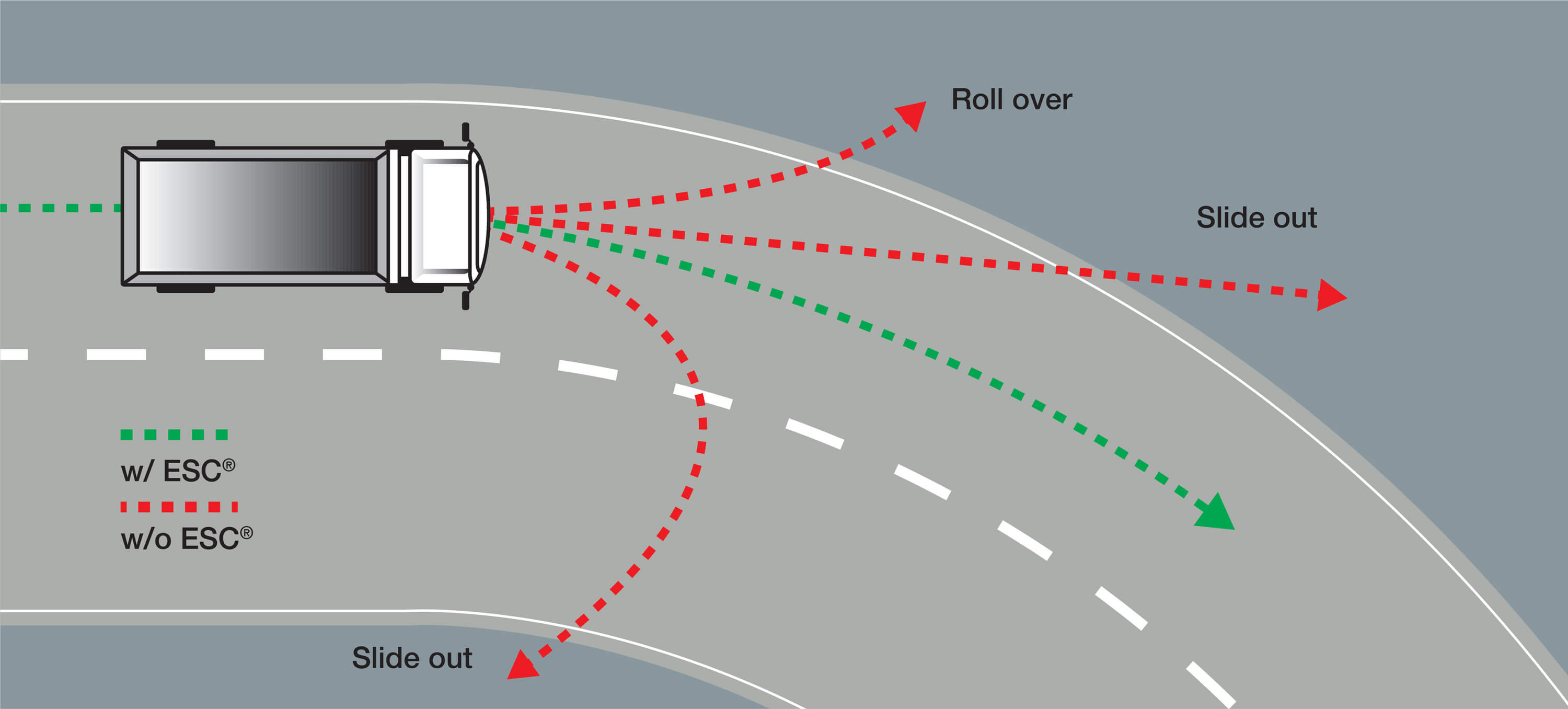 ELECTRONIC STABILITY CONTROL
ESC employs multiple sensors to detect loss of steering control and apply brake force at each wheel, which aids steering control and improves stability.
TOUCHSCREEN MEDIA UNIT WITH REVERSING CAMERA
A central touchscreen relays images from a high-definition, infrared reversing camera and has Apple CarPlay and Android Auto compatibility for hands-free talking text-to-speech functionality. It is also compatible with other approved phone apps such as Google Maps and Spotify. Four additional cameras, reverse sensors and tyre pressure monitoring are optional extras, along with GPS navigation.
The only medium-duty Japanese truck certified Euro 6
No other Japanese truck in the medium-duty commercial vehicle category is certified Euro 6 – the most stringent European emission standard currently available.
The new FUSO Fighter range has two Euro 6 engine variants – the 250hp (177kW) 6M60T1 and 280hp (199kW) 6M60T2. Both engines are designed to work in harmony with highly efficient Allison automatic or FUSO manual transmissions, aided by selective catalytic reduction and diesel particulate filtration, to reduce fuel use and harmful emissions.
Both Fighter engines deliver excellent performance, with plenty of torque available low in the rev range up to a maximum of 761Nm @ 950-2270rpm on the 250hp model and 802Nm @ 1100-2400rpm on the 280hp model.
An unsung hero that gets the job done – what those on the road say!
Fighter is proven in New Zealand over nearly 30 years. The unsung hero of the FUSO family, the Fighter range suits a variety of medium-duty applications across general food and freight distribution, infrastructure, construction and refuse with the use of tipper, flat deck, bin, box and curtainside bodies.
A 6x4 medium-duty tipper that carts metal all day
Low tare weight, fuel economy and dependability put FUSO Fighters at the top of the list for Neville Brothers over a number of years – with driver Dave Cassidy calling them "unstoppable" off-road.
"There's places I've put this Fighter I would have been scared putting my Hilux."
A flexible medium-duty truck range that ticks all the boxes
Fighter's wide range of configurations, long-term reliability, cab comfort and next-level Allison automatic transmission are major selling points for John Tutill, managing director of Auckland metropolitan carriers Tutill & Sons.
"They're a good truck. We pretty much buy them all automatics now. The Allison auto is another step up – once our drivers have been in one for a couple of days, you don't get them back out!"
Maintenance advice for your medium-duty FUSO
All FUSO Fighter medium-duty trucks are backed by FUSO's industry leading, 300,000km/five-year extended warranty. Simply have your vehicle serviced at an authorised FUSO Service Centre, at the recommended servicing intervals, and you are covered by an additional two-year / 150,000km FUSO warranty on top of the first three years / 150,000km for FK models and an additional two-year / 100,000km FUSO warranty on top of the first three years / 200,000km for FM, FN and FU models.
Refer to the terms and conditions in the FUSO warranty booklet for full details.
Roadside assistance
In the event of a roadside breakdown or accident, your FUSO NZ Roadside Assist team will provide advice or roadside assistance 24 hours a day, 365 days a year. We deliver emergency support in both city and rural areas, working in partnership with our dealer network to get you back on the road.
To access this service, call toll free on 0800 FUSO 007 (0800-3876-007)
Easy Pay service contracts
FUSO offers the convenience of Cents Per Kilometre Service Contracts to help you align with operating costs and ease cashflow issues. All authorised FUSO service dealers have access to a wide range of FUSO Genuine Parts from our Auckland warehouse, with more than 12,000 FUSO product lines in stock.
Fighter medium-duty truck range
There are 23 models in the Euro 6 Fighter range, with wheelbases from 4,270 to 6,530 mm in 4x2, 6x2 and 6x4 configurations, including a 4x2 factory tipper.
Click here to view the full Fighter range
Get into a Fighter!
Get in touch with your local FUSO dealer to discuss the best medium-duty FUSO for your business.