Feature Article
A beast to tame the wilds
When livestock and agriculture haulage operator Barry Maher needed a new truck to tame the twists and turns of his main route from Mangaweka to Rotorua, there was only one vehicle in his mind – the FUSO Shogun 510.
In the heart of New Zealand, the mighty Rangitīkei River winds for 253km southeast of Taupō to the South Taranaki Bight. The rolling hills perched above it are easy on the eye, but not on the trucks that navigate the steep gradients and hairpin bends of the roads that cut across this part of the country.
Maher Transport's new 6x4 FUSO Shogun FV2651 is more than up to the task – and driver Mat O'Hara is loving life behind the wheel.
"I love going to work in the Shogun; it's effortless," says Mat. A big part of the reason for that is the broad power and torque delivery from the 13-litre Detroit Diesel-derived OM471 engine, which delivers a hefty 510hp and 2,500Nm (1,844lb/ft) torque from around 900rpm to produce exceptional performance in the toughest conditions NZ can throw at it.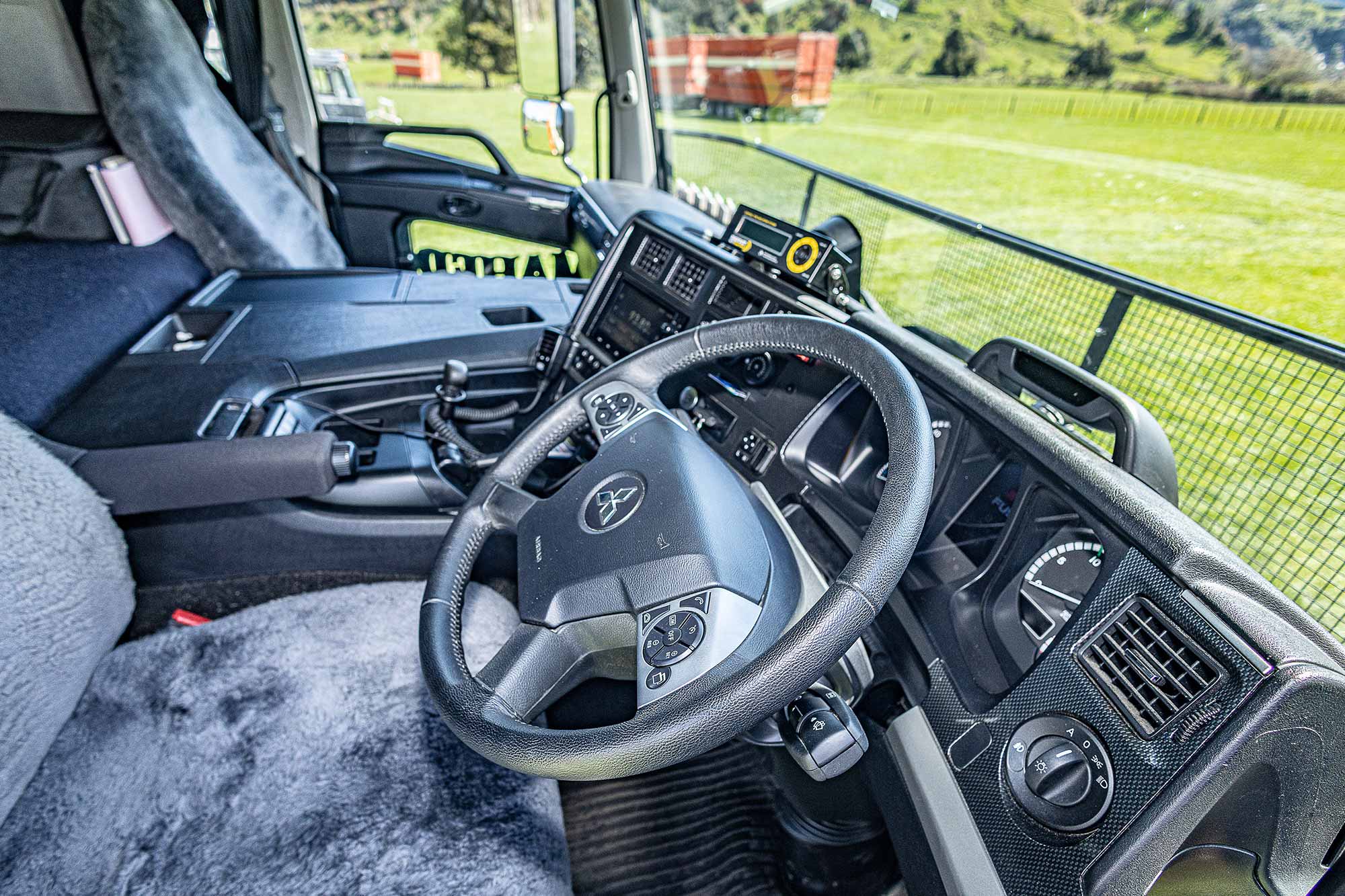 Ahead of schedule
Thanks to having all that "effortless" power on tap, Mat says he's reaching his destination – which can be up to 300km away on SH1 – 20 minutes quicker than he'd do in older models in the fleet, hauling up to 23T of livestock, fertilizer or wool.  An added bonus is that he's much fresher at the end of the day, thanks to spending less time behind the wheel – not that he doesn't enjoy being in the Shogun's comfortable, multi-adjustable driver's seat!
"We're passing trucks on the hills with ease, you should see the looks of the other drivers when they see me sailing past", chuckles Mat.
That has a lot to do with the ShiftPilot 12-speed AMT, which was extensively tested in Kiwi conditions before its release. Mat is one of several drivers reaping the benefits of that rigorous attention to detail.
He says the "gear change is unreal" and suits every aspect of the truck's job down to the ground.
"The auto changes so quickly and is a big reason why we can pull away from other brands on the hills. I've never been in a situation where I've thought I could do with a bit extra from the transmission."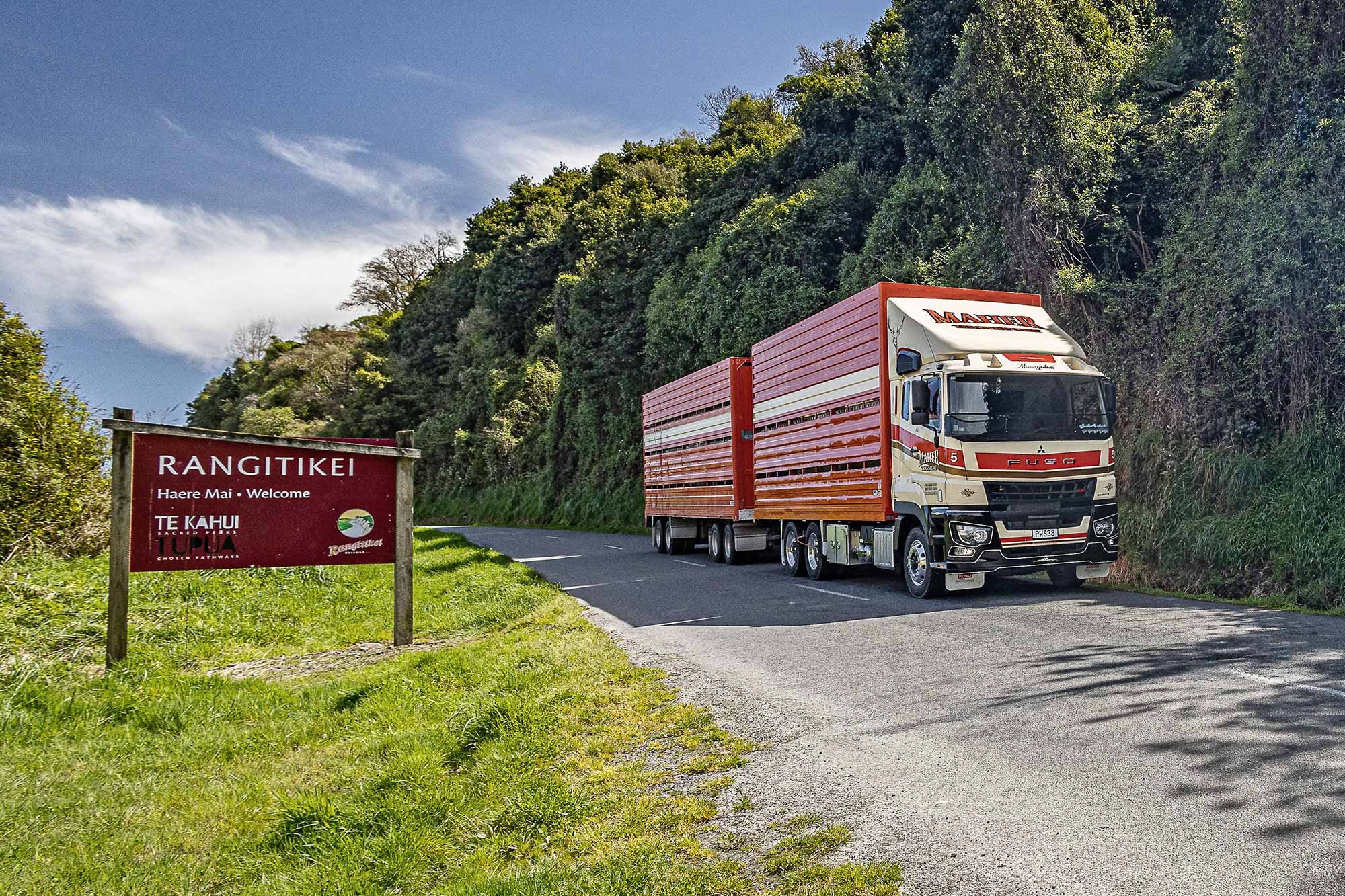 A perfect farm truck
The Shogun has a customised 5.1m chassis, lengthened an extra 800mm by Gary Douglas Engineering in Palmerston North to fit a 24ft stock crate, built by Total Stock Crates in Fielding, and pulls a 4-axle Jackson stock trailer.
That's a fair-sized piece of kit to be negotiating farm gateways and paddock with, but Mat says it's a breeze – especially when backing.
"It's like the transmission knows I'm backing up into a loading race or a shed. The manual control on the throttle is precise enough that I can feather it carefully to back up where I need to for loading."
He says the Shogun's tight turning circle, inter-axle diff lock and limited slip diff on both drive axles make it a superb off-road vehicle, which it needs to be to survive as a livestock truck.
"One customer had a digger waiting to help bail me out if I got stuck, but I just used our central tyre inflation to drop the PSI, turned the diff-lock on and sailed through! "
Mat also gives a big thumbs up for visibility and comfort in the cab, saying the Shogun's high vantage point, cab-over design and leaf suspension help tick those boxes.
Taking charge of his work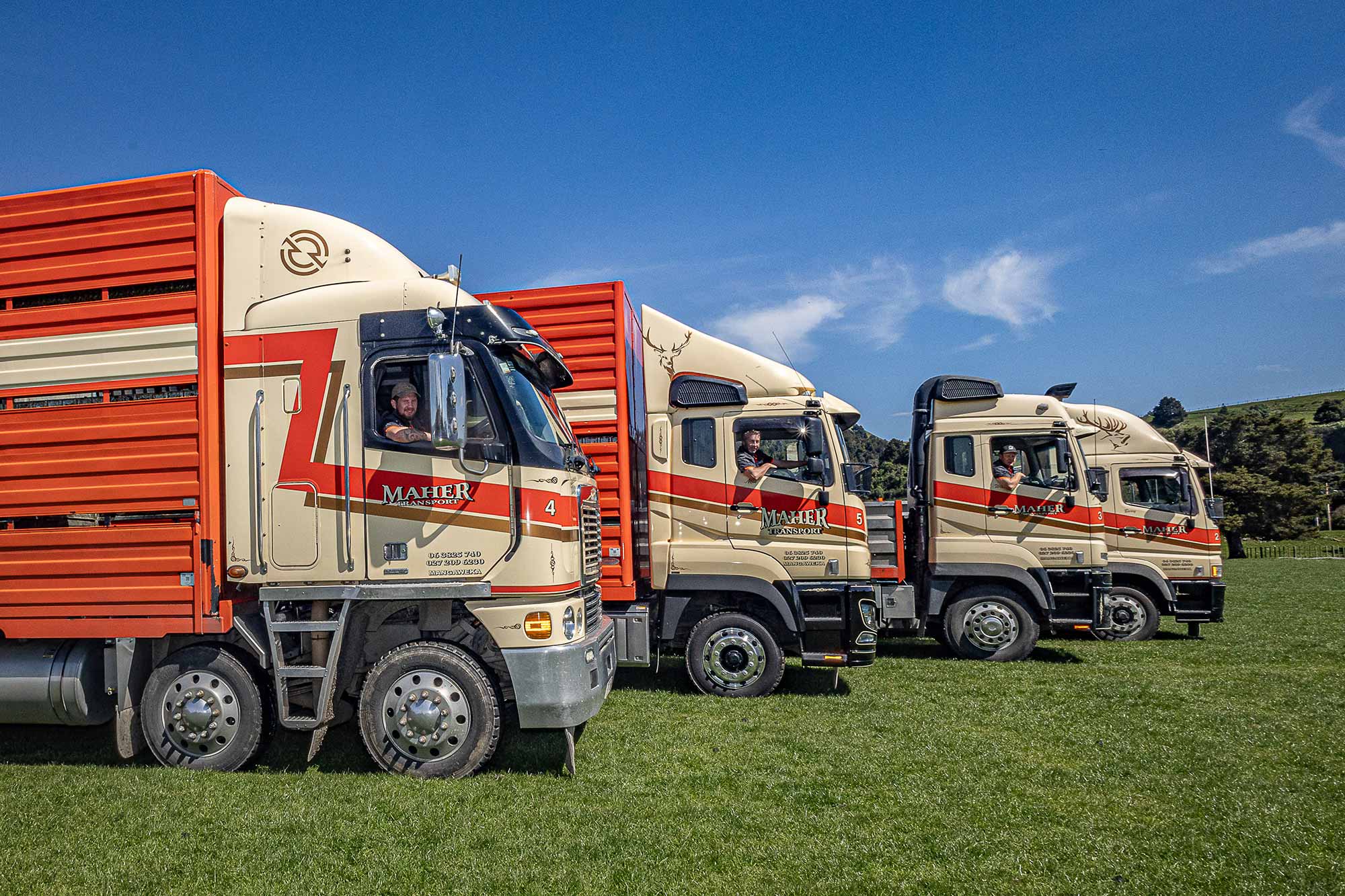 Mat's positive response to the latest addition in Maher Transport's fleet mean that company founder Barry is a happy man too – and the numbers speak for themselves.
"The new Shogun is already 10% more efficient than the older models in our fleet and it'll only get better. We're saving around $350 per week on fuel, which is massive."
Barry, who grew up on a farm and has been in the industry since he was 18, set up under his own name in 2018.
Having previously worked as a driver and owner-driver for companies around the Mangaweka area, he decided the time was right to branch out on his own.
His first truck was a FUSO Shogun 6M70, bought new following advice from his father. Fleet additions in the shape of a FUSO HD, Freightliner Argosy and another Shogun followed – before the 510 completed his line-up.
Barry calls on two other drivers, plus himself, to service his customers – but takes special care to mention who "the boss" really is!
"I have to mention that the hardest worker of the lot of us – truck or driver – is my wife Lara. She works full-time at an accounting firm in Taihape and then does the Maher Transport books at night or on the weekends!"
Personal touch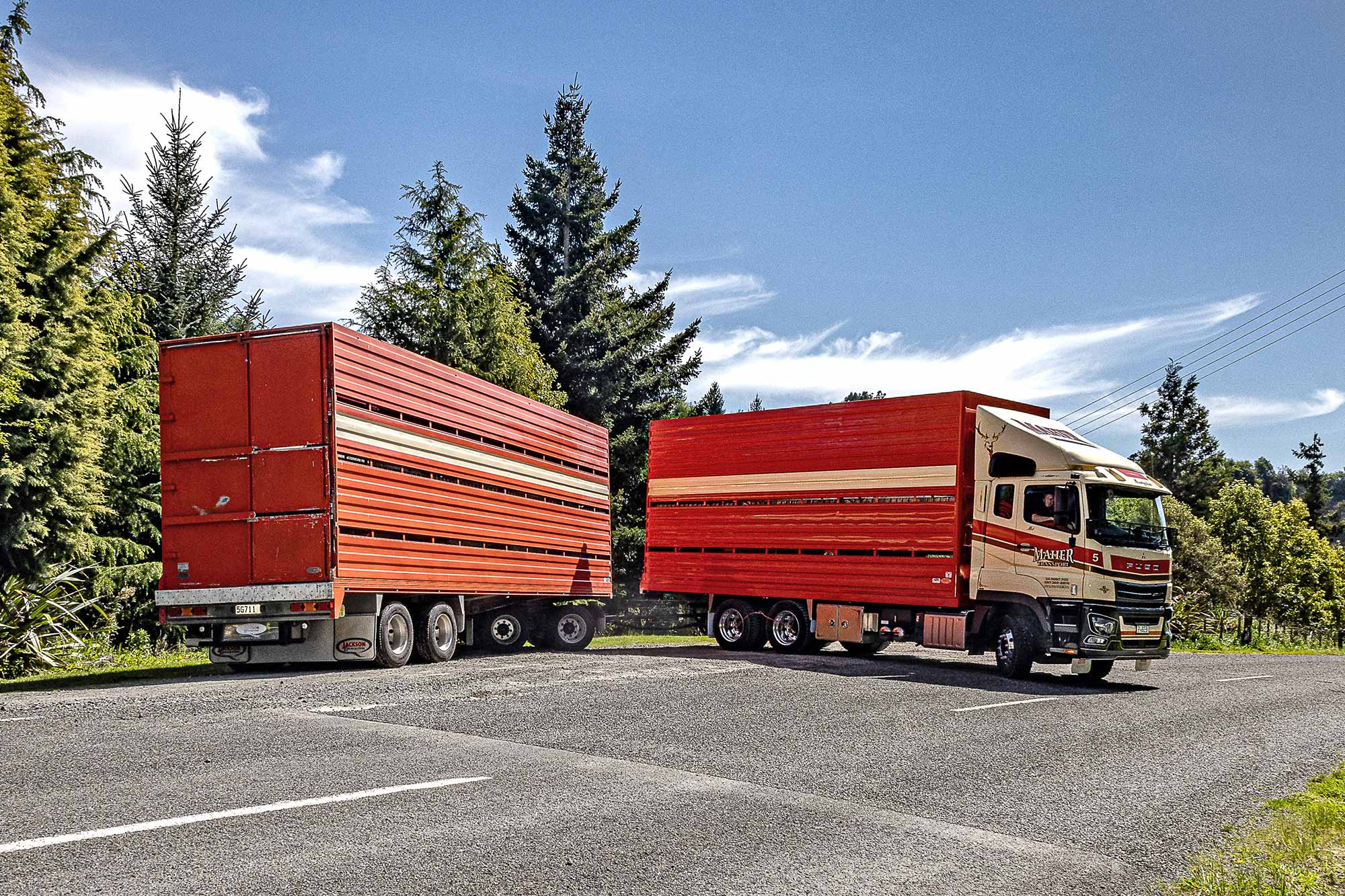 Barry says he kept buying FUSO and added a Freightliner from the Daimler family because they're reliable, fit-for-purpose trucks, but the icing on the cake is the tremendous service from Ben Tacon from Keith Andrews.
"Ben has gone above and beyond for me on more than one occasion," says Barry, who knows a thing or two about the value of good service.
Business has boomed over the past 12 months thanks to the excellent service offered by Barry and his team. 
"Local farmers like to see local people turn up to pick their stock up, and that's what they get with me. Plus, I turn up in person to do the job and they respond well to the personal touch."
Barry says further expansion is on the cards and wants to start modernising the rest of his fleet over the next five years.
Much like the Rangitīkei River, Barry's career has taken a winding path, while staying true to one central tenet – a connection to the land and the communities that live and work on it. It's one of the reasons he has enjoyed success since setting up in business – delivering trusted support and receiving the same from the brands and suppliers he has chosen to rely on.