Feature Article
Cream of the crop
Having started life carting hay bales across the Canterbury plains in the 1970s, Hilton Haulage has grown into a company with national reach and a fleet of 260 trucks across general, bulk, dairy, chilled and container transport. Its 'gate to plate philosophy' includes a major contract harvesting peas and beans, now being serviced with a trusted fleet of eight new FUSO Shogun FV2540 six-wheelers. 
General Manager Commercial Paul Rait says that FUSO has been a mainstay of Hilton's fleet for the past 15 years – and is in good company alongside Daimler stablemates Mercedes-Benz and Freightliner. Collectively, Daimler trucks outnumber any other brand in Hilton's distinctive yellow and green livery. For the harvesting contract, it is exclusively Shogun. 
Paul says there are several benefits to sticking with a single model for such a specific job. 
"Firstly, our dispatch staff know exactly what the capability of the vehicle is, which means the operation can run smoothly and efficiently. Secondly, it makes life easier for our drivers and reduces the amount of training we need to do. Thirdly, they are perfectly matched to operate alongside the harvesters out in the paddocks and our customer will always know what they're getting." 
That's all important because it's a 24/7 operation that needs to run like clockwork.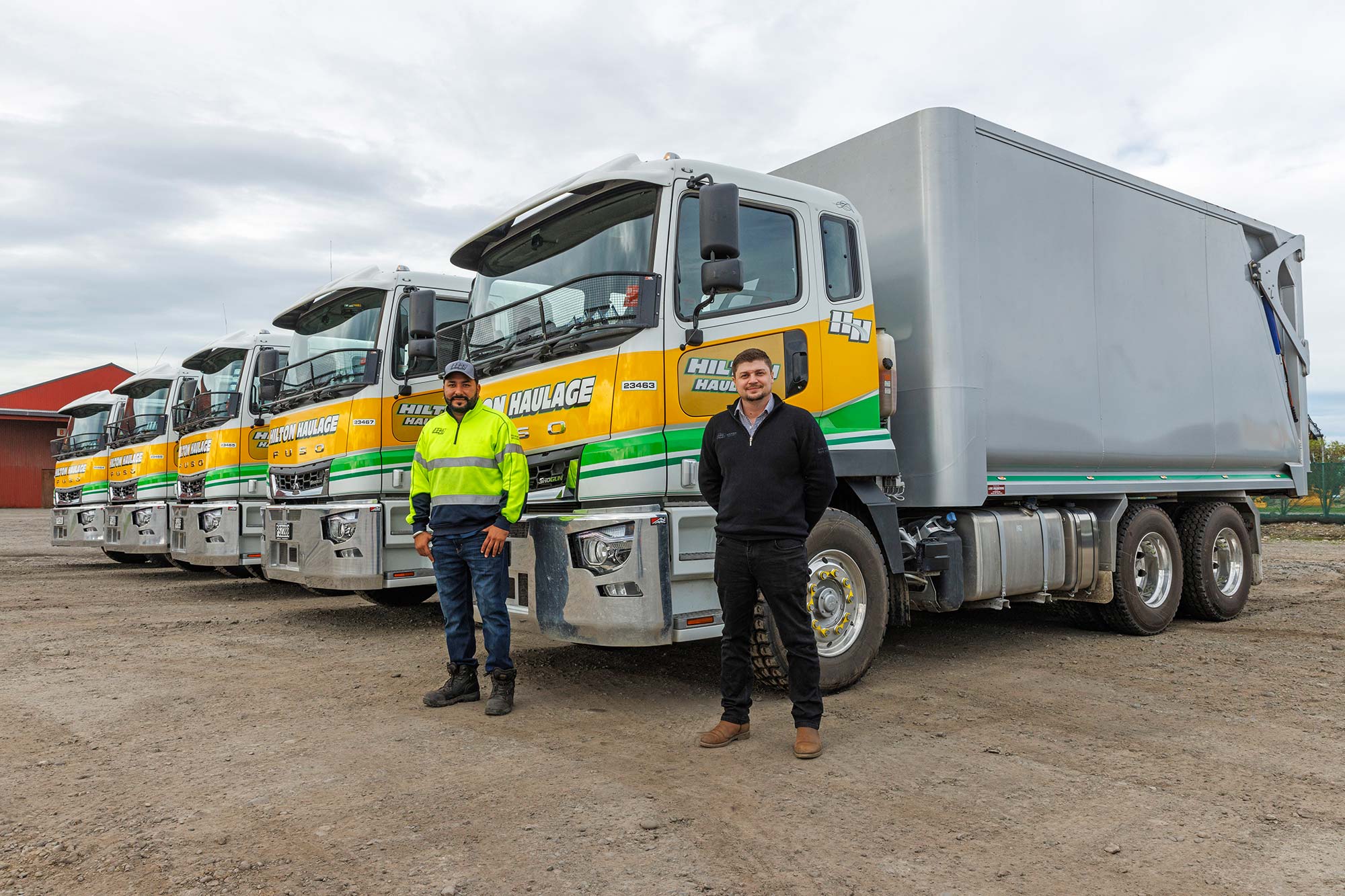 "The harvesting season runs virtually non-stop from November until mid-April and there's a lot of pressure on our trucks to deliver," explains Operations Supervisor Chris Newton. 
"If it takes too long for us to get from the paddock to the factory, a 23T load will get rejected because it won't meet food quality requirements." 
When it comes to reliability – and capability – he says Shogun FV2540 has it covered. 
Delivering the goods 
"The trucks are worked hard – often up to 1,000km per day – so reliability is key. FUSO is proven in this application," says Chris. "I really can't fault them." 
The Shogun units have replaced an older FUSO fleet and Chris is impressed with the new technology on board – especially the Euro 6-rated, 11L OM470 engine, which he says delivers "more than enough power for the application" thanks to an even output across a broad engine range up to 400hp, with up to 2,011Nm providing the ability to hang in there when the going gets tough. 
"Plus, Euro 6 gives us the best technology for lowest carbon emissions we can get."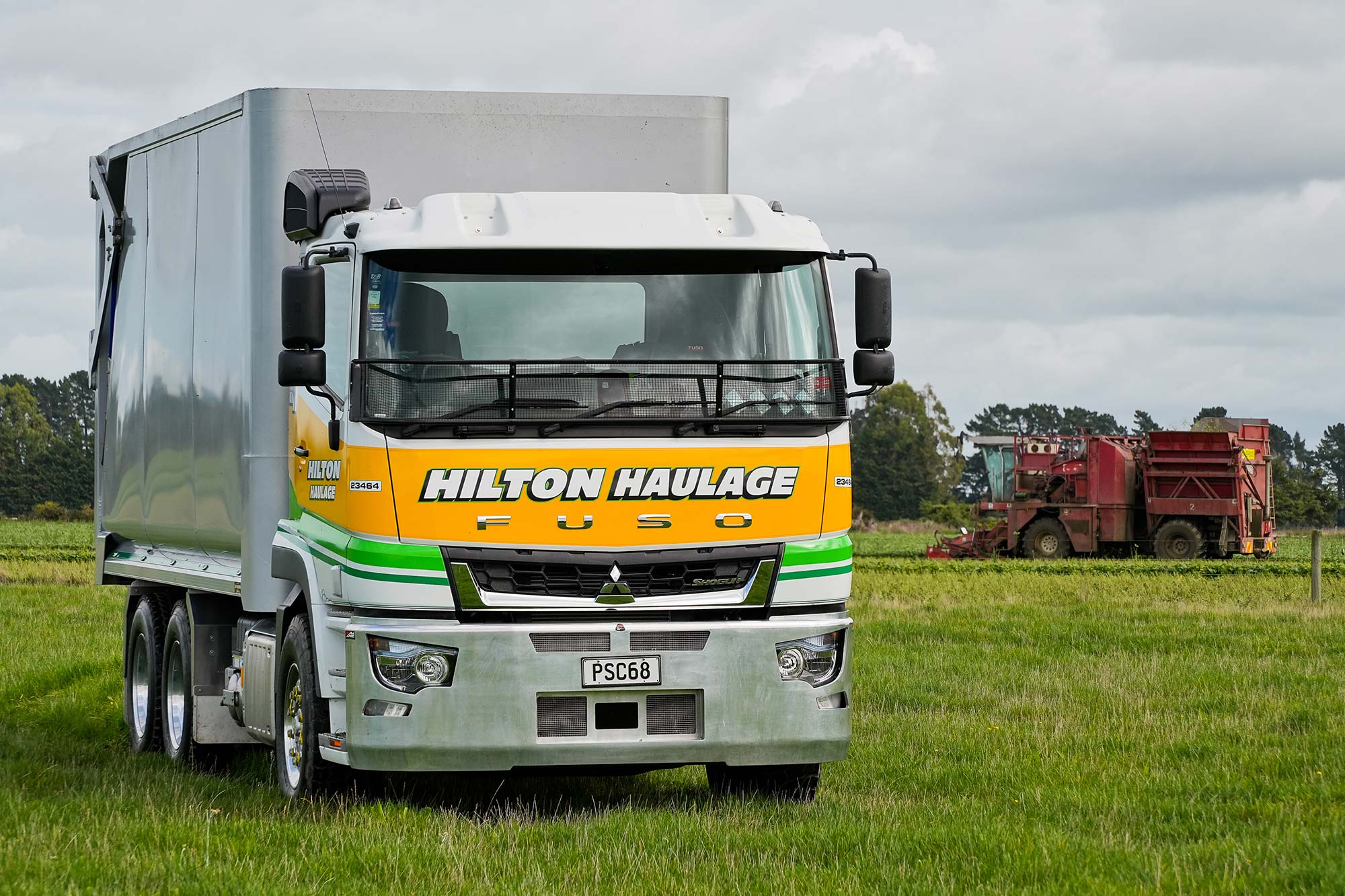 That helps with Toitū carbonreduce certification, which Hilton Haulage is in the process of applying for at the time of our interview. 
Developed in tandem with the OM470 engine, Shogun's ShiftPilot AMT has quickly impressed Chris. 
"They get around the paddock a lot better than manual trucks," says Chris.  
"The ShiftPilot is so smooth, it carries momentum a lot better than a manual, which is key in wet paddocks. Plus, the drivers don't need to worry about gear changes, which makes their lives easier."  
Chris says another benefit of the AMT is the ability to crawl alongside the harvester as it gathers the crop and deposits it in the aluminum bins fitted on each truck. 
Combined with diff locks, he says the Shoguns can be relied upon to perform in the worst weather. 
Chris adds: "There's also great visibility from inside the cab; it has a good turning circle and the [4.3m] wheelbase lets us get the best balance of weight over the drive tires to ensure it can run in a paddock without getting stuck." 
Driver health and safety is important to Hilton Haulage. General Manager Commercial Paul points to the Shogun's range of advanced safety features, such as Active Emergency Braking 5, Active Side Guard Assist, Driver Fatigue Monitoring and Lane Departure Warning System as vital to the company's purchasing decision. 
"Safety is one of our key values," says Paul. "We're accredited under ISO 45001:2018, which specifies requirements for an occupational health and safety management system. Driver safety and comfort is critical and FUSO provides us with the confidence to know that our people are safe." 
Those who spend their time in the cab are happy too, says Chris, reporting a comfortable and operator-friendly experience with conveniences such as Apple CarPlay and Bluetooth connectivity "that is easy to set up."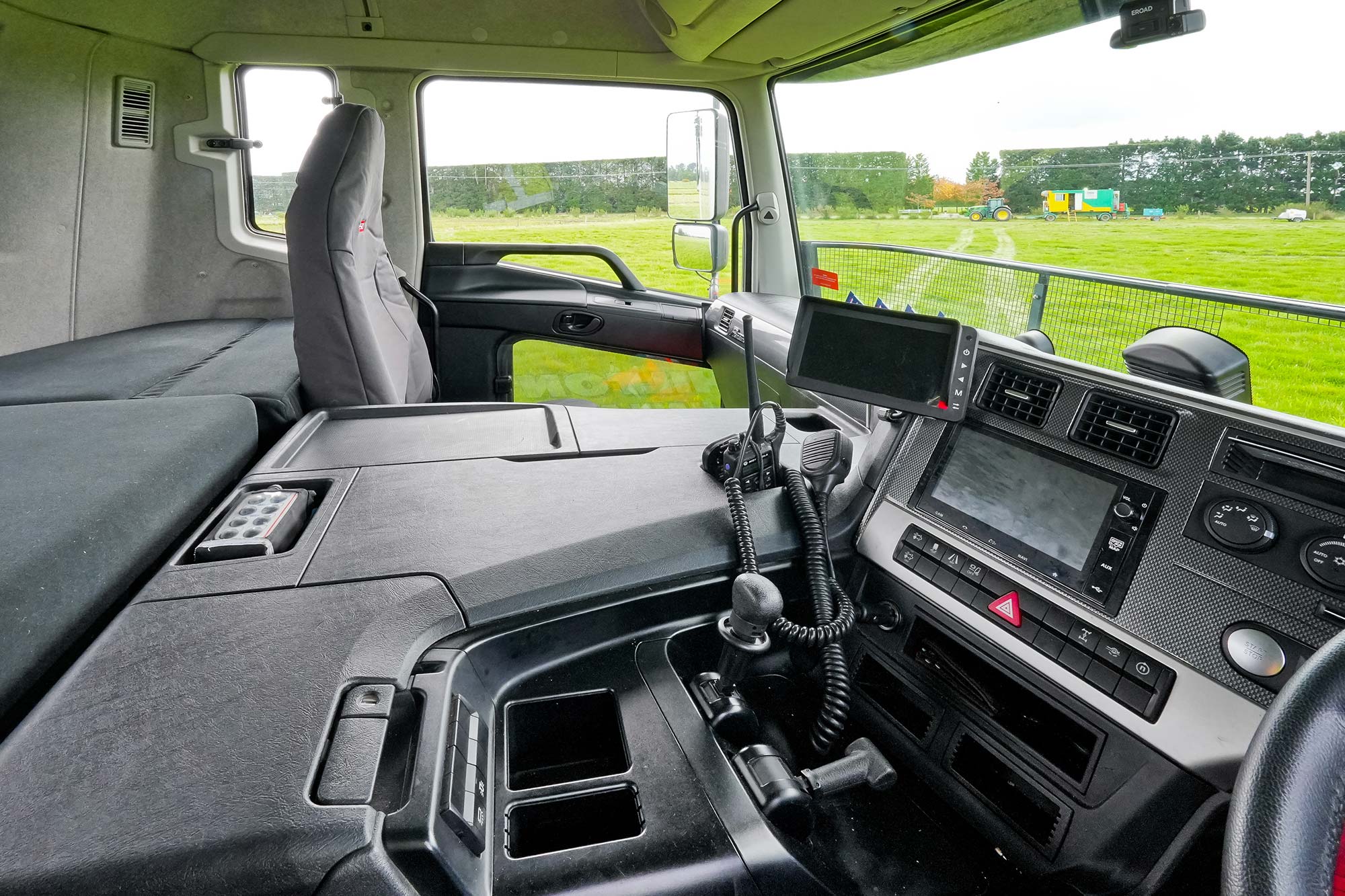 Trusted support 
Due to the pressure to deliver during harvest season, Fuso New Zealand's South Island parts and service operation in Christchurch, CablePrice, runs a day and night shift to ensure Hilton's fleet gets any support required. 
"CablePrices' parts and services have always come to the party if required," says Chris. "We don't need parts often, because it's a robust truck, but the servicing is excellent. 
"Being open 24/7 is huge for our business," he adds. "A lot of our trucks are serviced at night and during harvest season we'll have two or three slots reserved every week just for us. The team in Christchurch knows how vital it is for us to keep our trucks on the road and they are brilliant at ensuring that happens." 
It is clear that when it comes to servicing Hilton Haulage's harvesting contract, FUSO Shogun really is the cream of the crop – ensuring its bottom line and customer relationship remains in good health, just like the peas and beans on Kiwis' plates.