Feature Article
Early adopter, big gains
While cities sleep, Bidfood distribution centres are a hive of activity. From farm to fork, New Zealand's largest food and hospitality provider is responsible for helping to feed the country's workforce, families and tourists, usually making its deliveries before the sun comes up.
As one of the early adopters of FUSO eCanter – the world's first series-produced fully-electric light-duty truck, with zero on-road emissions – Bidfood is leading the way towards a cleaner and more sustainable transport fleet for New Zealand. 
With government targets and legislation already in place to lower commercial vehicle emissions, it is industry leaders such as Bidfood who are taking proactive steps to make the difference required to meet those targets. 
Bidfood already limits its carbon footprint via initiatives such as solar panels on its buildings to generate electricity, rainwater recycling and introducing paper bags and containers to reduce waste. 
With a fleet of more than 500 vehicles operating out of 29 facilities in 17 regions across New Zealand, making deliveries six days a week, Bidfood is investigating alternative fuels to help meet its emissions-free targets by 2030. 
When the opportunity arose to partner with Fuso New Zealand in Auckland's Zero Emission Area Trial, Bidfood jumped at it. 
"The trial gives us an advanced look into how electric trucks will integrate into our fleet and allows us to capture valuable data that will help us moving forward," said a Bidfood spokesperson. 
"Additionally, we believe that it's our duty to deliver sustainability gains where we can; eCanter helps us with that." 
Bidfood national fleet manager Tony Hutcheson told NZ Truck & Driver magazine that it was important for the business to "stay ahead of the curve" when it comes to emerging EV technology. 
"Our executive team is very focused on sustainability. We don't want to be caught off guard, so this is the beginning of our look at what is achievable and what we will have to change to be able to utilise this technology moving forward," said Tony.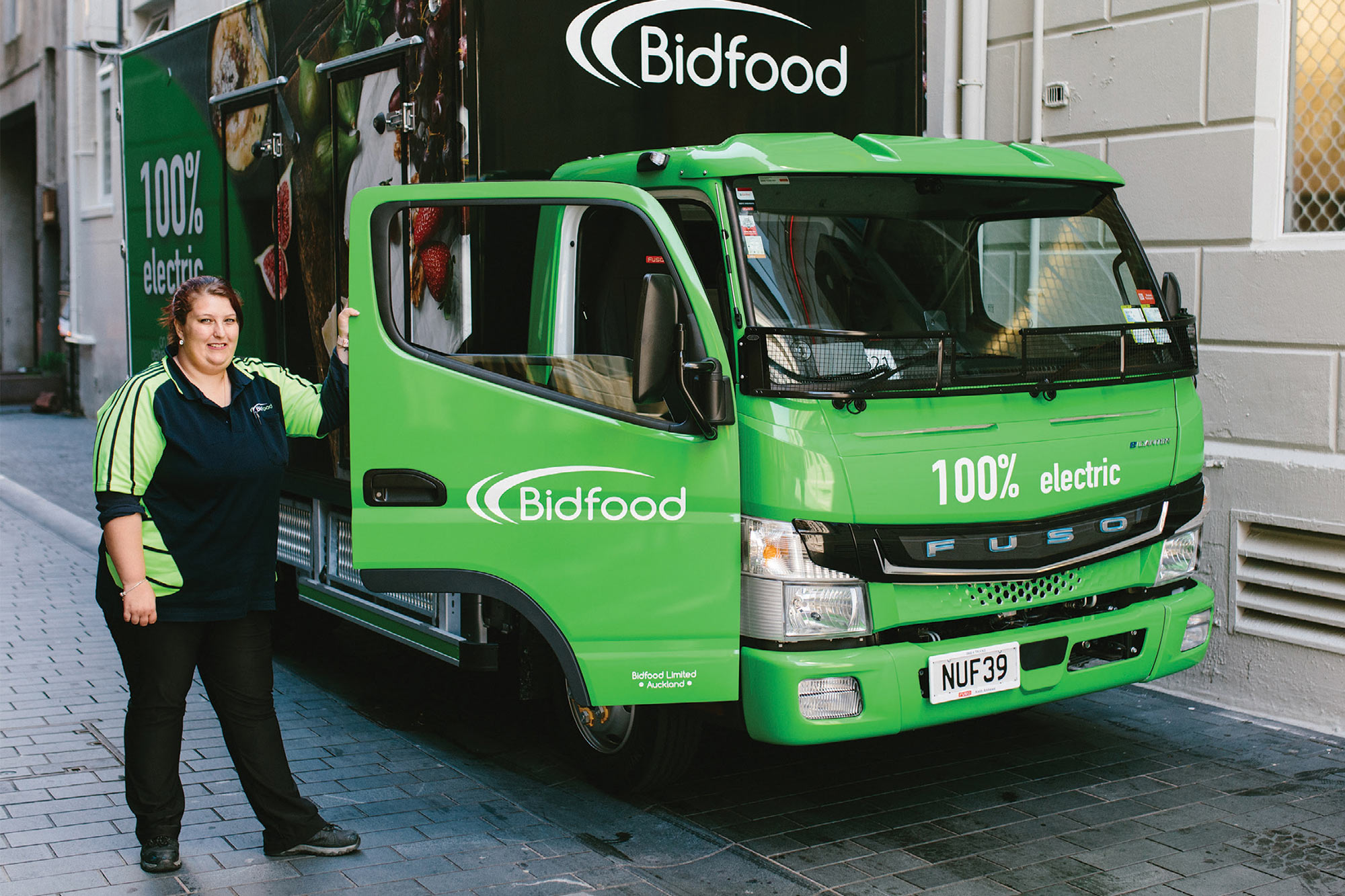 The Bidfood eCanter in Auckland is being deployed for around-town delivery of frozen and chilled produce with a eutectic body, carrying a payload of 1T to 1.5T. 
"When the eCanter gets plugged in to recharge, they connect the refrigerant via a hydraulic coupling – but all the workings of the refrigeration systems sit on a trolley externally, which saves about 100kg from being carried on the truck."  
Smart innovations such as this can help extend the range of the vehicle. Fuso NZ also recommends intelligent route mapping and is working closely with operators to discover and share more practical solutions for EV logistics.
"We are now going into town using slightly less motorway. But the beauty of our business is that we can utilise that new route by making deliveries."  
"Once it's in town and moving around, the battery has a much better life," adds Bidfood Auckland South's assistant general manager Jason Love.  
"We're learning how the electrification of the delivery fleet will impact our operation as a whole, not just how many kilometres we can drive in the vehicle," says Tony. "Obviously, there will be a big focus on charging, both at our depots and while out on a delivery run."  
Powered by a synchronous electric motor with 135kW/390Nm output and a 81kWh lithium-ion battery pack, the eCanter can be charged to 80% capacity in 45 minutes using a DC fast charger, or it can be plugged in to an AC port for an overnight charge.  
FUSO eCanter is the product of world-leading Daimler technology that is cleaner, quieter, and cheaper to run than diesel alternatives and is fitted with advanced safety features such as Lane Departure Warning, Electronic Stability Control and Active Emergency Braking to better protect drivers and other road users. 
Fuso New Zealand Group Manager Sales & Customer Experience Kathy Schluter says that Bidfood is setting itself up for success by taking the first steps to integrate electric vehicles into its operations now. 
"To extract the full potential of eCanter, and deliver the best results, requires an entire culture shift. While that might sound daunting, it is the early adopters who will have a seamless integration process in place and a competitive edge in the market before the wider uptake of electric trucks gathers pace. 
"The learning Bidfood is undergoing will help maximise the performance and efficiency of eCanter across different service routes, loads and body types, as well as individual driver behaviour and integration into the entire logistical chain of operations."