Feature Article
Going low to reach new heights
A new FUSO Shogun Super Low is laying the foundations of bottom line growth for Duncan McLay and Mike Forde's contracting and concreting operations around Auckland and Hamilton. The class-leading, low-height chassis transporter is reducing running costs, while providing safer, easier loading of heavy machinery as the lifelong friends and business partners look to sharpen their edge in a competitive market. 
Duncan and Mike have known each other since they were kids, and they now work as closely together as the two businesses they jointly run – Mike Forde Contracting and Concrete Floors Ltd. The first supplies machinery, tools and labour to the latter and the relationship is as smooth as the finish on the concrete pads and driveways that one half of the operation excels in. 
"We pride ourselves on providing a complete service from earthworks through to the finished job," says Duncan.  
Armed with the know-how and a can-do attitude, and backed by the right personnel and equipment, Concrete Floors has been sharpening its edge in a competitive market – and it just got sharper. 
To get gear to sites around Auckland, and sometimes down to Hamilton, the pair had been relying on a used truck, which, over time, was costing too much time and money in the workshop.  
Encouraged by recommendations from other operators, Mike and Duncan crunched the numbers and decided investing in a brand-new "flagship" 8x4 FUSO Shogun Super Low FS2540V made best sense for the business.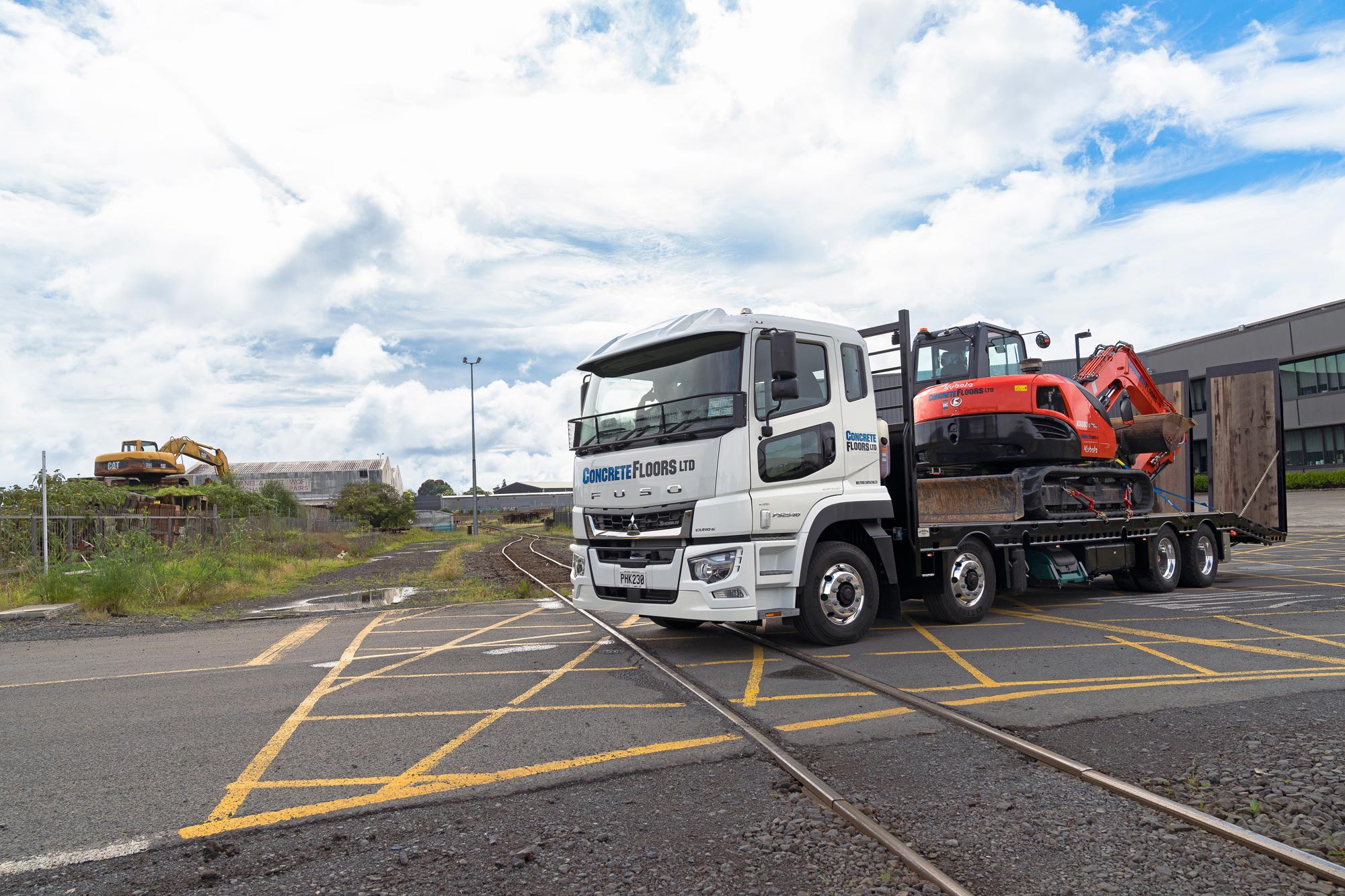 "We don't have to worry about the cost of keeping it on the road, like we did with our old truck," says Mike. "We can just concentrate on getting on with the job." 
Less downtime means greater productivity, greater peace of mind, and greater margins. 
The Shogun comes with an extended 500,000km / 5-year warranty, but the pair are keen to point out that it wasn't just the saving on running costs that influenced their purchasing decision. The Super Low has the lowest chassis height of any heavy-duty transporter on the market – and that was a huge plus. 
Mike says that having a chassis that sits just 844mm off the ground, on 19.5" wheels, makes loading of heavy equipment – sometimes up to 11T – much safer and easier. 
"Access is excellent and, with integrated hydraulic ramps, we don't need to use lifting ramps. We just drive our equipment straight onto the deck." 
The 400hp Detroit-Diesel inspired OM470 engine also enables transportation of heavier plant than the older truck it replaced, which is another benefit. 
"When we first started doing foundations, we'd rarely have to drill holes, but now it seems like every foundation needs them," says Mike. "So we had to get larger, more powerful excavators and a bigger transporter to get our gear from A to B." 
He says the Shogun Super Low has all the power they need and has been impressed by how efficiently it runs, which is ideal for driving in traffic on Auckland's busy roads. 
"The truck runs on such low revs, you can almost idle it around the place," says Mike. "It looks to be very economical on fuel.  
"It's so comfortable and easy to drive, especially in traffic. The gear changes are quick and the torque is amazing. We hardly notice it when we've got 11T on the back!"  
Mike says the safety features are also a big plus and particularly likes the Lane Departure Warning System – "it makes a better driver of you" – and Adaptive Cruise Control.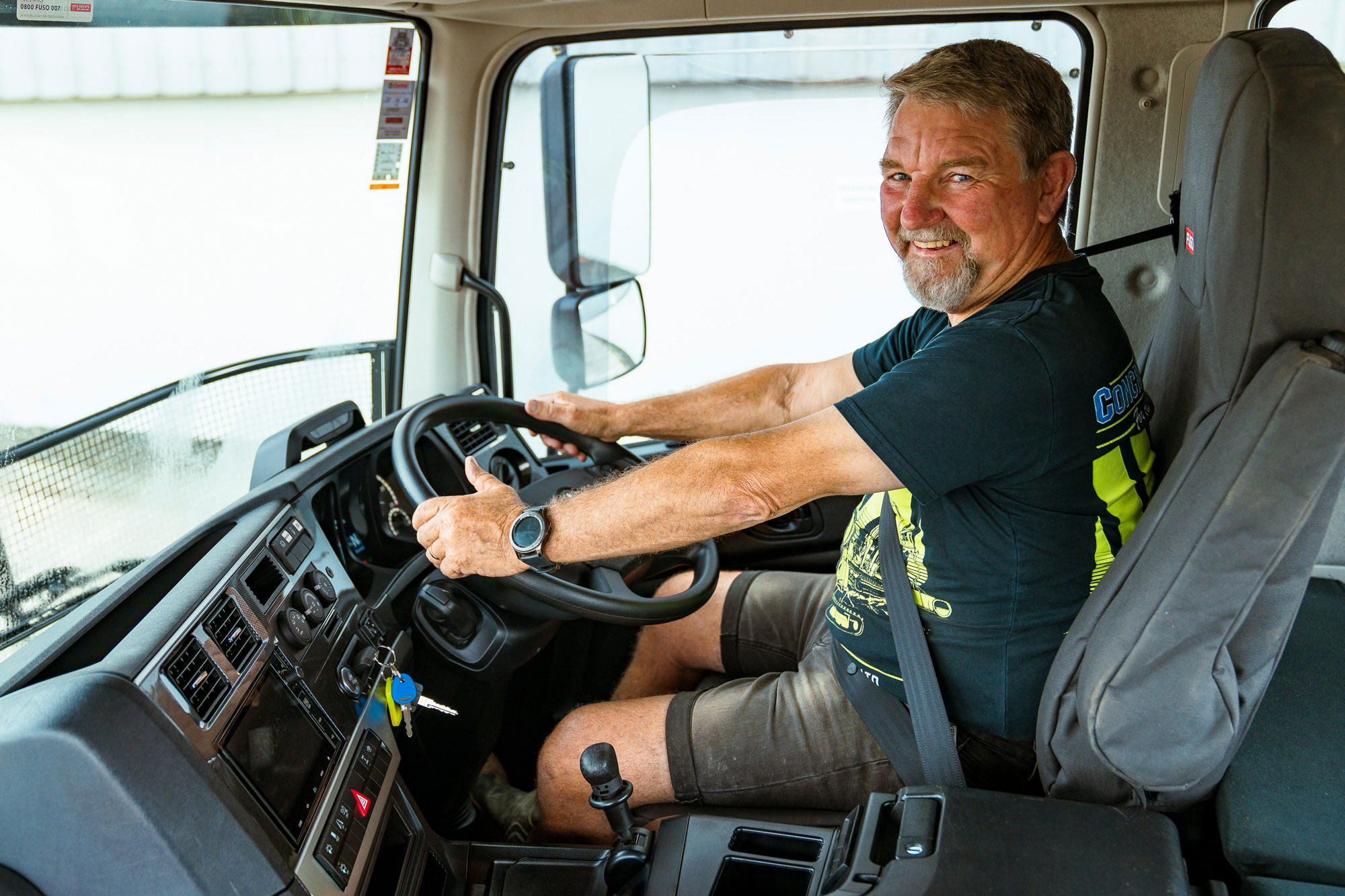 "You get on the motorway and set your speed. Whenever the traffic slows down, the truck reacts, stops when it needs to, and takes off by itself as well. I don't know how you'd ever have an accident in one of these things!" 
Alongside the Shogun is a brand-new FUSO Fighter, bought to shift excavation material from site. Duncan reckons they'll also add a second Fighter to complete the fleet's transition to FUSO. 
"People see your gear on the road and you want it to be quality, to look good, and be one consistent brand –¬ for us now, that's FUSO." 
The FUSO Fighter and "flagship" Shogun Super Low represent a new chapter in the story of Concrete Floors Ltd and Mike Forde Contracting. It is a chapter based on greater reliability and lower total cost of ownership alongside class-leading attributes – all of which means that Mike and Duncan are well set to take their operations to new heights.