Feature Article
Shogun delivers Euro 6 efficiency
Power and efficiency – to Euro 6 standard
The new Euro 6 OM470 10.7L diesel is the cleanest, most efficient powerplant ever seen in a FUSO – 170kg lighter than the OM457 used in HD, this is a compact, lightweight unit with heavyweight capability across two output options.
The OM470-T2 model has a maximum output of 398hp / 2,011Nm, while the more powerful T4 model delivers up to 460hp / 2,213Nm.
At first glance, that might appear modest for a truck that pulls 60T uphill with ease – yet its quicker response and smoother running performance gives it the edge over its predecessor.
A hallmark of the very latest generation Detroit-designed engine is a very steep rise in torque and horsepower in the middle rev range, resulting in maximum power at a low 1600rpm. A look at the power curve illustrates how the engine attains its maximum power more or less constantly across a broad engine range from 1450rpm to 1900rpm.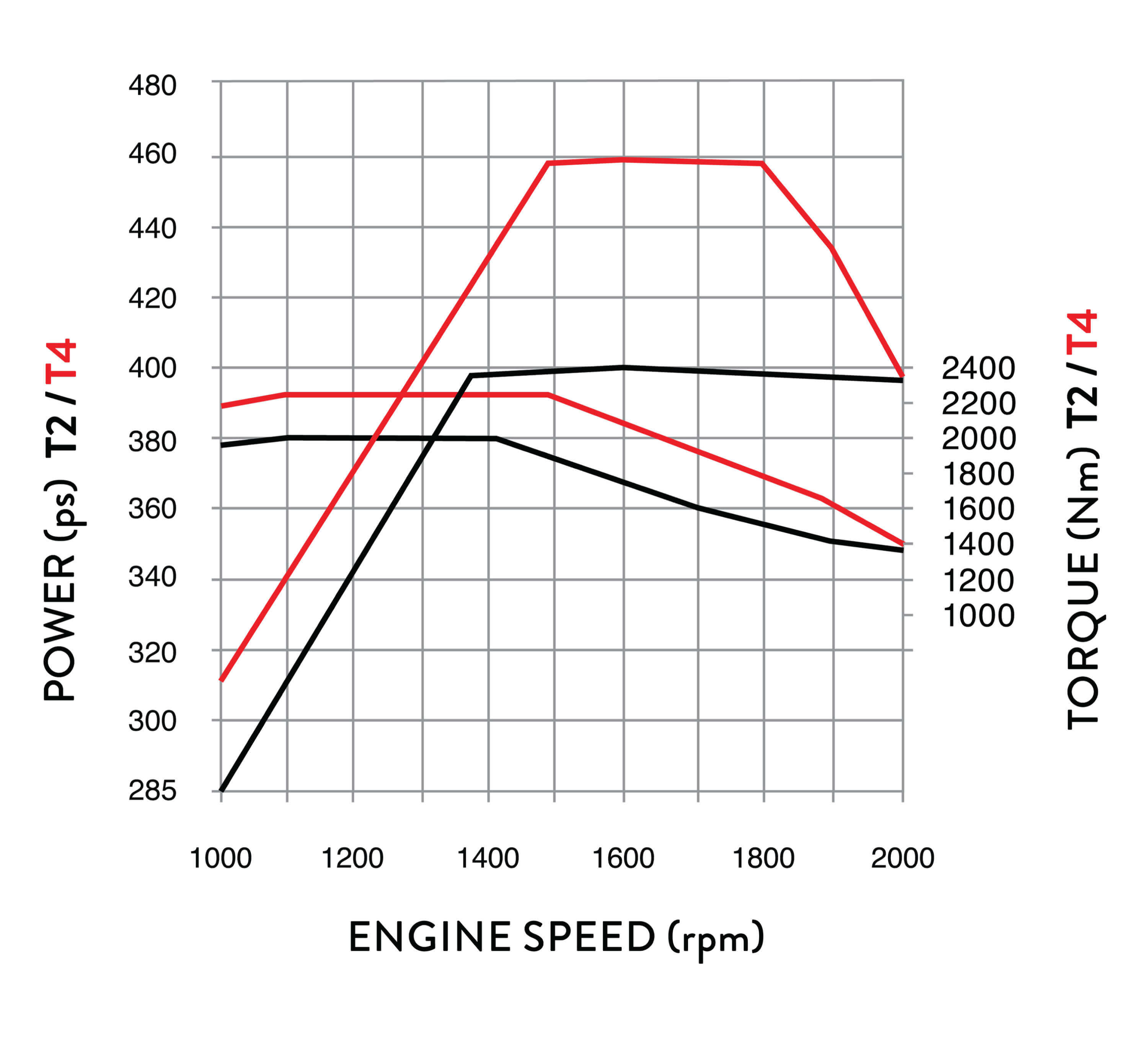 With its Detroit heritage, the OM470 has that legendary delivery of torque and the ability to hang in there when the going gets tough. The torque curve peaks at 1100rpm but is available almost constantly from 900rpm to 1400rpm, offering excellent driveability across a wide rev range.
In terms of efficiency, it's way ahead. The all-new X-Pulse Common Rail Injection System controls injector pressure and volume for optimum combustion at a lower temperature and with a shorter after-burn period, reducing harmful exhaust gases (NOx) and particulate matter. At start-up, on light throttle loads and in other appropriate conditions, the OM470 runs on three cylinders to further improve fuel consumption and reduce emissions.
The engine is also fed by an asymmetric fixed turbine turbocharger, with two scrolls in the turbine – one large, one small – to improve air suction for a more efficient combustion process. Exhaust gas flows independently through each scroll, feeding the EGR system and turbine wheel respectively.
The fixed geometry design, with the omission of a wastegate valve, controls the boost pressure using the EGR system, which helps to reduce the engine's complexity.
Another feature of the OM470's Detroit heritage, is the inclusion of the most respected name in engine brake design – Jacobs (or Jake). In conjunction with the four valve DOHC design, OM470 delivers a powerful 460hp retardation with three levels of adjustment. With this sort of retardation, there is no need for an exhaust brake.
ShiftPilot – smooth and economical
A major part of Shogun's reduced fuel consumption is the brand-new ShiftPilot automated manual transmission mapping. 
Customised for New Zealand road conditions, following more than 150,000km of testing, this third-generation G230 transmission (G330 on the FV2446 Hi Top line haul model) features 12 forward and 2 reverse gears with automatic selection of the right gear for the truck's speed.
A major improvement over the HD, this smooth and efficient system, with 0.6 sec shift speeds – twice as fast as HD – helps reduce driver fatigue through ease of operation (from a stalk switch on the left of the steering column) and improves fuel economy in one hit.
Standard and Power modes enable optimal performance in even the most challenging conditions, alongside the fuel-saving Eco Mode 3.0 (Eco Roll and Eco-Cruise).
Eco Roll employs a neutral gear when travelling on a slight downhill – providing fuel savings by reducing engine drag torque.
The new mapping, combined with the faster shift speeds, provides huge improvements in acceleration, response and gear selection.
Manual mode gives drivers the option to perform on-demand operations as required.
Further driver assistance is provided through Rock Free Mode and Crawler Mode.
Rock Free Mode literally rocks the vehicle back and forth to escape from wet, muddy terrain. The clutch disengages as soon as the foot is released from the accelerator pedal and vice versa. Pushing on and off the accelerator pedal rocks the vehicle, allowing it to escape.
Crawler Mode has been vastly improved from HD, allowing for slower and more controlled maneuvering operation.
Eco-Cruise can be selected to further improve fuel consumption. This will allow a wider range of speed variance (selected by the driver) before responding to give a more relaxed and fuel-efficient cruise on typical NZ rolling roads.
Lower maintenance costs
Engineered for maximum efficiency and performance, and built with better-quality, longer-lasting parts, Shogun has been designed to reduce running costs at every turn.
The headline cost saving is a reduction in fuel use over HD of up to 20% – as demonstrated during testing in New Zealand – but there are several other areas of economy.
Brake part life is extended thanks to the highly efficient Jake brake providing up to 460hp stopping power and a high percentage of braking overall.
Even the air compressor is SMART controlled to disengage when not required, further increasing fuel efficiency.
FUSO high-grade engine oil and Mercedes-Benz synthetic oil in the transmission and differential allows for improved performance and extended oil change intervals up to 60,000km on some applications. A safety inspection and greasing at 15,000km intervals is required to maintain reliability and warranty coverage.