Feature Article
Under the pump
As development of alternative fuel sources and technology ramps up, diesel remains the lifeblood of the vast majority of industry. Without it, we're stuffed. To ensure work doesn't grind to a halt at even the remotest of worksites, GOfuel undertakes the critical task of keeping things moving. 
From farming and forestry to earthworks and maritime, GOfuel provides bulk delivery and onsite refuelling in and around Auckland, Bay of Plenty, Taupo, Wellington and Southland.  
After a number of years in the industry, Rob Bolton established Petroleum Logistics (trading as GOfuel) in 2005 and built the business from the ground up.  
GOfuel is proud to be the first Mobil branded reseller in New Zealand and it is now flying those colours on the side of a 13,000L tank mounted to the 5.5m-long chassis of a new 460hp FUSO Shogun. 
 "Five of our ten tankers are FUSO," says business manager Barry Brown.  
"They're all good, reliable trucks that get the job done. I can't fault them." 
"Being able to carry 13,000L is a real advantage for us," adds operations supervisor Nick Wright. "It means we can service some of our bigger clients in the same day, without having to make multiple trips." 
"Even with a full load, you never feel like you're lacking for power, especially up hills," says driver Wayne Stokes of the Detroit-inspired OM470 engine. 
"You put your foot down and it goes and goes. I can't fault it. The transmission is really responsive. I'll stay in auto and switch into manual when I go offroad, which is handy." 
Heading offroad is a regular occurrence for Wayne. Reaching some clients isn't always a walk in the park, so GOfuel's tankers need to be able to handle farm tracks, skid sites and places where you'd struggle to swing a big cat. None of that is a problem for the 6x4 Shogun (and no animals were injured in the writing of this story).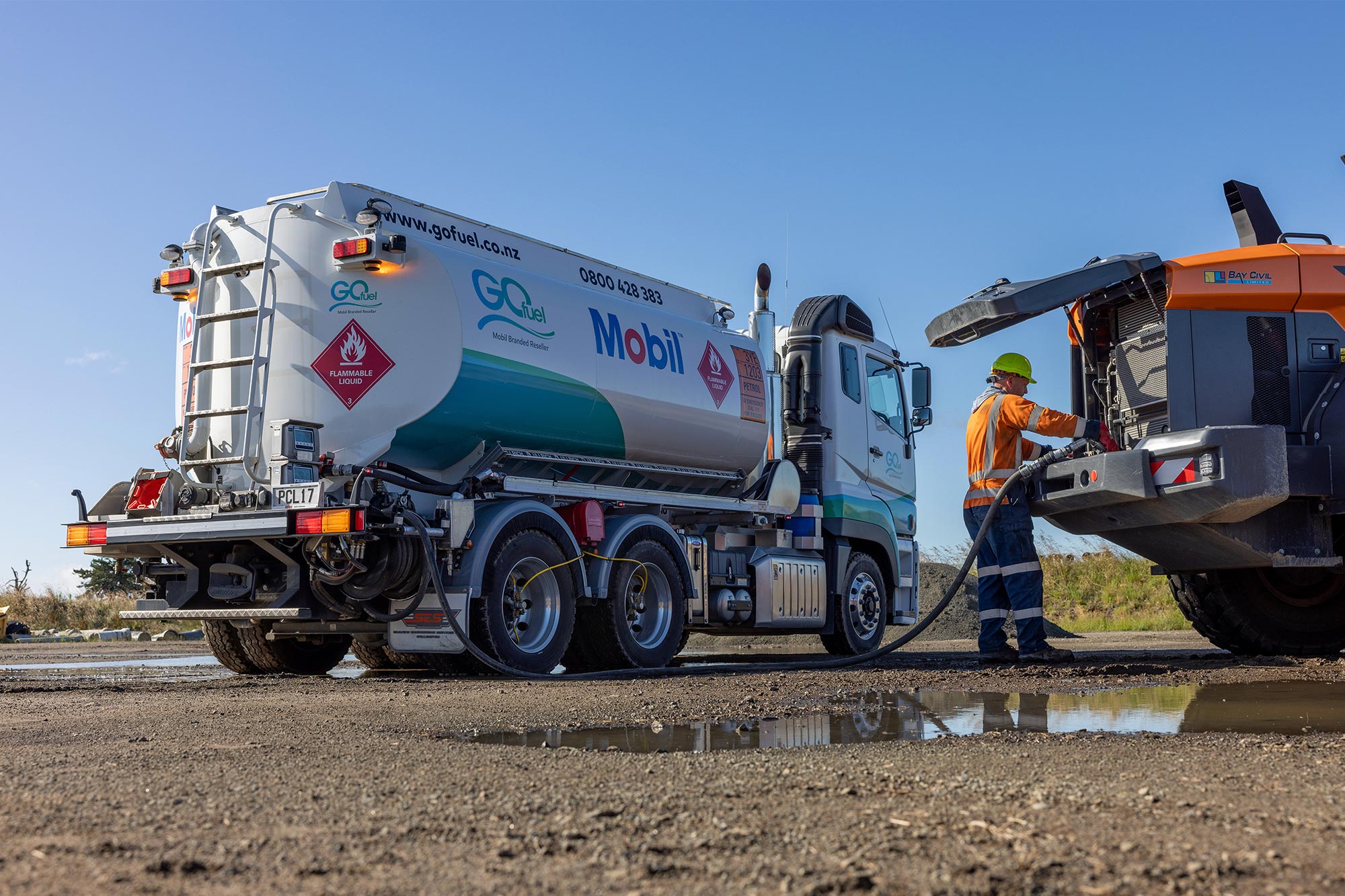 "Its turning circle [14.6m] is really good and it's easy to manoeuvre, because the wheelbase is fairly short [4.3m], which makes my job a lot easier!" says Wayne. 
He also says it handles well off-road.
"I've only been stuck once and even then I managed to get myself out pretty easily by using the inter axle diff lock and rock mode."
The truck has also been fitted with a CTI system, which enables Wayne to reduce tyre pressure for added traction. He does all this from the comfort and safety of Shogun's "well thought-out" cab. 
"Everything is accessible and comfortable; the seats adjust well and it's smooth driving – I don't get bounced around all the time!" 
"I'm always hopping in and out, but that's made easy because everything is in the right spot – the position of the hand grabs, the steps; it's all really good." 
Wayne doesn't cover huge distances in the new tanker, but for every kilometre, he and his hazardous cargo are protected by FUSO's range of advanced safety systems. 
"I use the adaptive cruise control to match the pace of the vehicle in front," says Wayne.  
"That's a really handy function from a safety point of view," adds Nick. "It gives us confidence that our tanker won't go up the back of someone."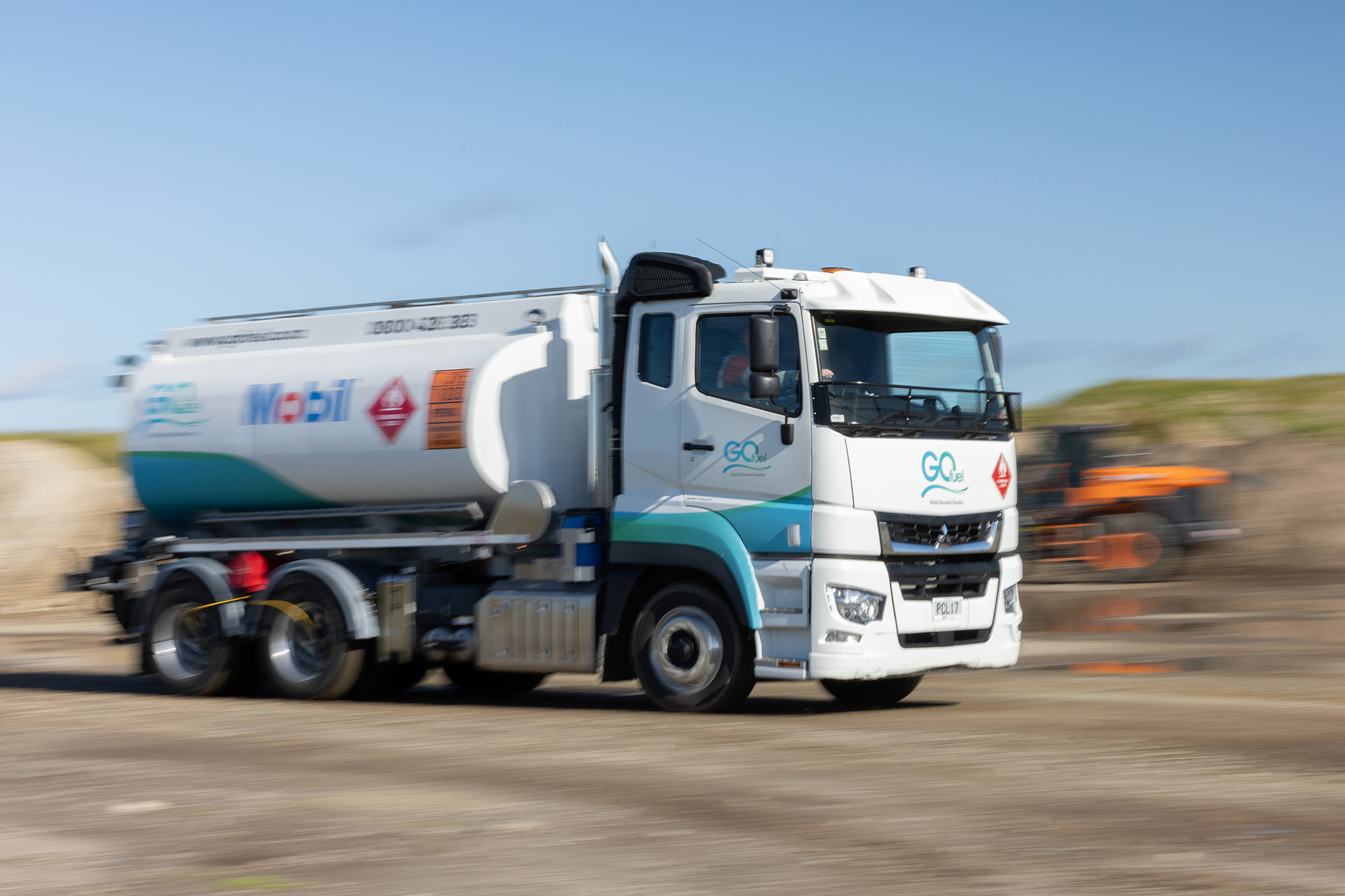 Other safety features include Active Emergency Braking, Electronic Stability Control, Lane Departure Warning and Active Attention Assist – all of which factored highly in the purchasing decision. 
"We need our drivers to be safe and to have the best chance possible of navigating any situations that might arise," says Barry. 
"Being able to get the truck on the road quickly was also really important for us, as was the price and reliability. FUSO and Keith Andrews ticked all those boxes and I know from experience that we'll be looked after on the customer service side of things and be able to get parts if we need to. All of that is key for us." 
With trusted support systems to sustain its business operations, GOfuel can go about its business with confidence – supplying the lifeblood to keep its customers' businesses moving. 
Contact your nearest FUSO dealer to discuss FUSO Shogun large trucks for sale, and options.