Feature Article
A vision of perfection
Nelson Tasman-based New Vision Landscapes is good at turning dreams into reality, but to do that it needs exceptional gear. Thankfully for founder and managing director Nigel Monk, his ideal light-duty truck is no fantasy. 
"We've been using FUSO Canter Tippers for the past 10 years now," says Nigel. "We've currently got a fleet of seven." 
For the first five years, Nigel used a ute and a trailer before transitioning to the six-tonne FUSO tipper.  
"I started buying them as Japanese imports, but now we only buy New Zealand new. We'll sell them on after five years or so, as their resale value is so strong. I'm always recommending them to other landscapers, too." 
At the beginning, it was just Nigel and one other person. He now employs 34 staff in admin, construction and maintenance roles, servicing the Nelson Tasman region across residential and commercial jobs.  
"Our commercial landscaping client base has grown a lot. We used to do mainly residential, but as we're now one of the bigger companies in Nelson Tasman, commercial clients come to us because they know we can get jobs done on time. Plus, we've got the trucks, diggers and Kangas we need to make the job more efficient. 
"After we finish a commercial job, we'll normally take on a two-year maintenance contract. The Canters are superb for that work. You can get a crew of three in, all the tools you need and have the site looking great in no time."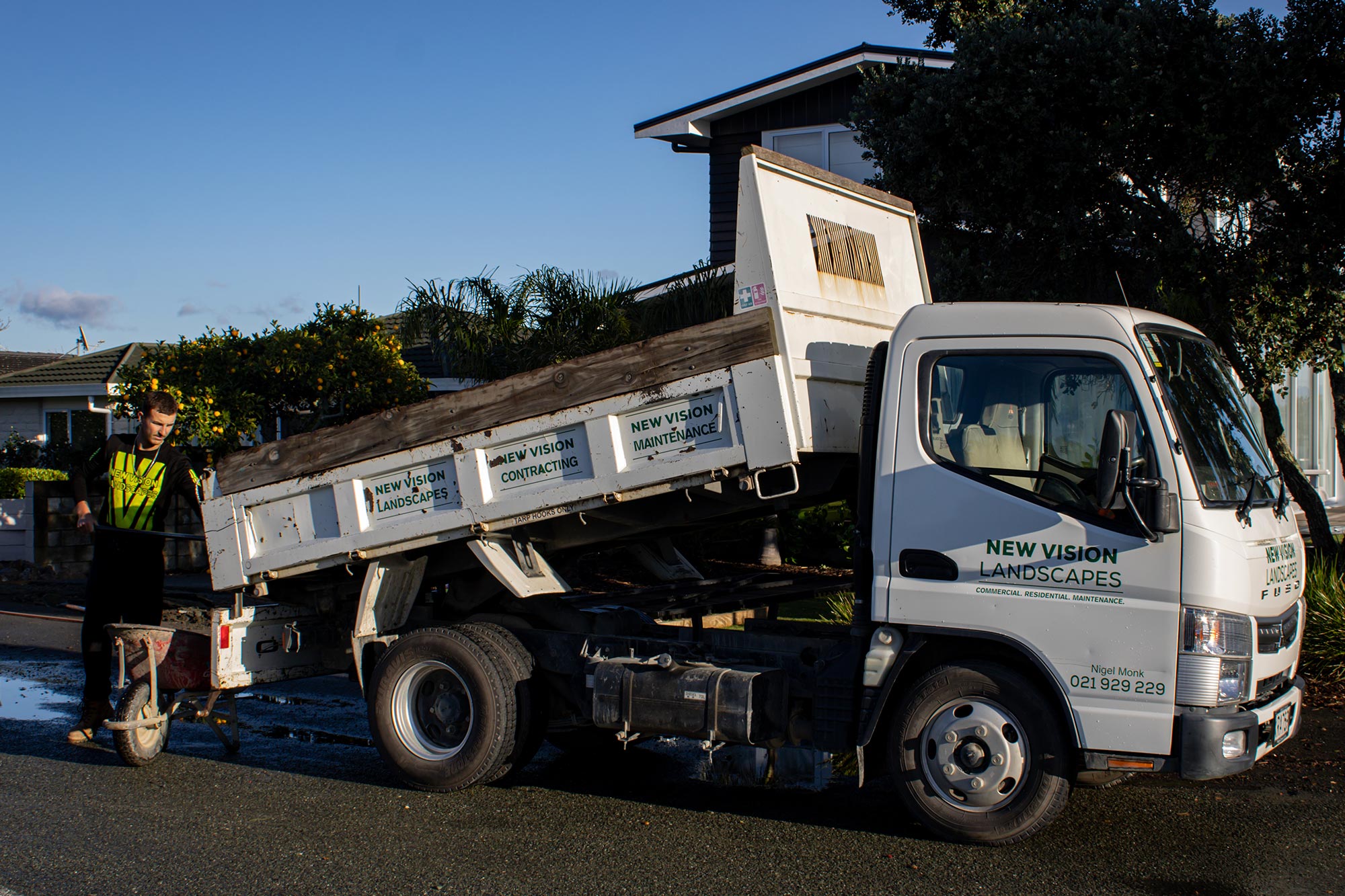 Following the original Covid lockdown and the restrictions on travel, Nigel says he saw a huge increase in the amount clients were willing to spend on jobs. 
New Vision Landscapes is booked up half a year across its whole business – and clients are prepared to wait. 
As sections get smaller but demand rises, the versatile Canter has become more important to Nigel. A lot of the smaller areas still require heavy, bulky materials or equipment, which is exactly what the Canter excels at carting around.  
"We can carry a 3T payload on a normal driver's licence, or we can tow a trailer with a 1.5T digger on it, so having a fleet of Canters is a no-brainer for us." 
The Canter's compact size and limited slip diff also makes navigating slippery sites a breeze. 
"We can fit them in between a fence or squeeze them beside a driveway. It's very unusual if we can't get them into a spot, which makes life so much easier for our crews. They can get to the site with all the gear and materials required for the job." 
Nigel says that another part of the Canters' appeal is their availability.  
"I found it very interesting that FUSO still has trucks available, because getting my hands on materials and other equipment at the moment is a nightmare! But obviously CablePrice have done their homework and got a lot of stock in."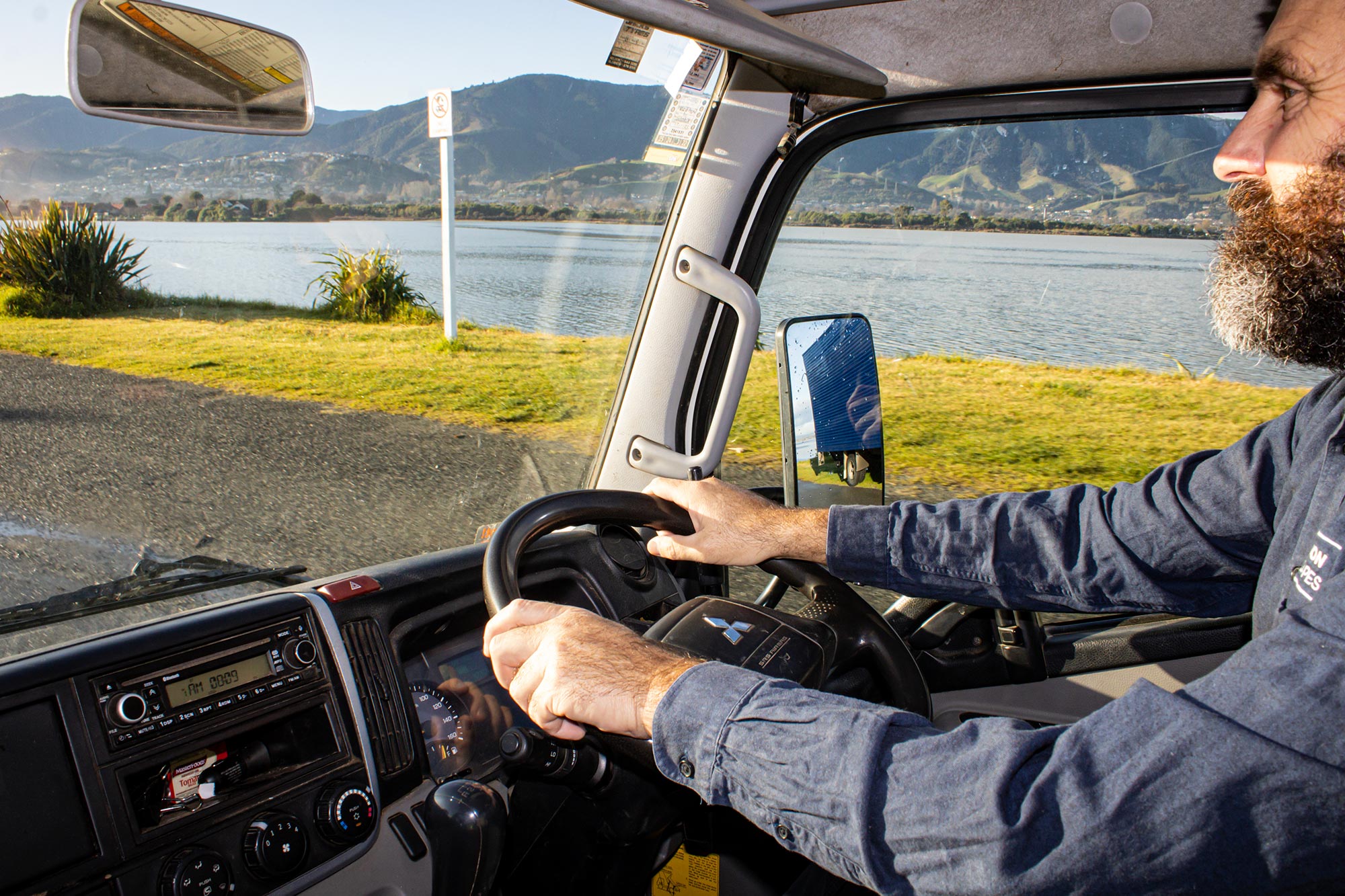 It's full steam ahead for the landscaping industry in New Zealand. That means the Canters will be working harder than ever to keep up with the pace set by Nigel and his team, as they continue to meet demand while keeping their quality high. 
Check out the Canter range here!