Feature Article
Carr & Haslam takes its latest leap forward with FUSO eCanter
Integrating a fully electric FUSO eCanter into its fleet isn't the first time Carr & Haslam has placed itself front and centre of the latest pioneering transport technology – director Chris Carr's grandfather made the bold switch from horse and cart to diesel truck 100 years ago and Chris says this is the most significant change for his business and the wider industry since that era.
It's hard to imagine the precise challenges businesses faced moving from four-legged horses to horsepower of a different nature, but if you start considering how you might make the move in the opposite direction, most of us can agree those challenges and the learnings required must have been significant.  

"The move to today's new technology is every bit as important – and as challenging – as it was back in 1922, when my grandfather stood proudly in Auckland's Grey Lynn with his first internal combustion engine (ICE) truck lined up ahead of the technology it would eventually replace," says Chris.  
"Just like stepping into that first diesel Brockway, driving an EV in a heavy commercial application requires new skills. To get the best from it, our team will need to learn how to maximise eCanter's strengths.  
"There is a lot to learn and the sooner you understand the tool, the better equipped you'll be to use it. Having test driven it, I am expecting they will really enjoy the differences." 
Fuso New Zealand Group Manager Sales & Customer Experience Kathy Schluter is working with early adopters such as Carr & Haslam to share learnings and facilitate fleet integration.  
"The return on investment is being seen daily in terms of our shared learning in maximising the performance and efficiency of eCanter across different service routes, loads and body types, as well as individual driver behaviour and integration into the entire logistical chain of operations," says Kathy.  
"It is the early adopters who will have a seamless integration process in place and a competitive edge in the market before the wider uptake of electric trucks gathers pace."  
Chris agrees that this is the direction businesses need to be taking and is grateful for the support and assistance of the Energy and Efficiency Conservation Authority (EECA) and its 'Low Emission Vehicles Contestable Fund' in enabling that first step. 
"The main benefit of moving to EV is, of course, reduced emissions. All of us know that reducing CO2 is a focus for the world and it is driving consumer choice and the decisions of the powers that be," says Chris. 
"Contracts are already being won and lost based on carbon emissions. We have a number of Euro 6 heavy trucks in our fleet, which exceed current NZ regulations, but this FUSO eCanter is the first in what will be an increasing line of EVs from our suppliers and following this path will be a necessity in the future."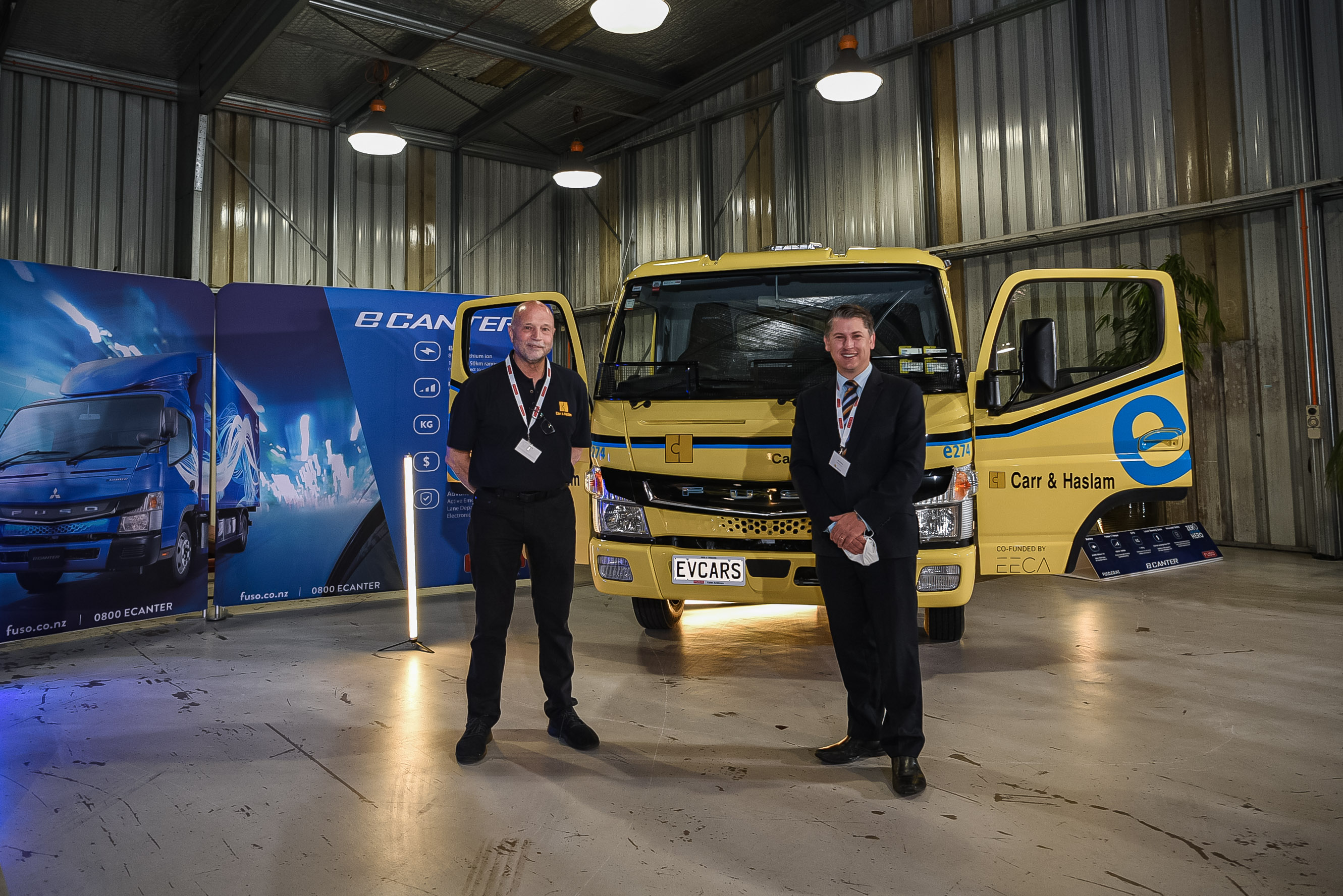 With a potential 150km range on a full single charge and up to 3.5T nominal payload, the zero-emission all-electric FUSO eCanter is particularly well-suited to metropolitan distribution. 
The 7.5T model, equipped with a hydraulic loading platform, is a neat fit for Carr & Haslam's vehicles transport division – especially when those vehicle are also electric-powered. 
"While not a world first, this will be the first eCanter in New Zealand – and possibly the Southern Hemisphere – to deliver EV cars," says Chris. "This zero-emission option will help our clients reduce their carbon footprint for distribution within Auckland City.  
"The eCanter, and our Euro 6 Daimler fleet, will also deliver vehicles for our Government contracts, giving those customers greatly reduced emissions in line with their objectives. 
"We're also closely following a select group of others who have deployed EV trucks into the Auckland Inner City Zero Emission Area Trial and we see ours as a welcome addition to this initiative." 
Chris' grandfather would no doubt be proud to see the latest generation of his family taking the business boldly forward pioneering technology of its day – helping drive New Zealand towards a more sustainable future on the world stage. 
More FUSO eCanter units are scheduled to arrive in 2022 and Fuso New Zealand is inviting businesses to get in touch now to avoid missing out – both in the short and long term.