Feature Article
A chef's kiss for Fighter
KTZ Transport owner and trained chef Kunwar Suri is new to the industry, but he's already enjoying the support of his fellow Team Global Express owner-drivers and, in FUSO, a truck brand that looks after its own.  
Kunwar (pictured above right with driver Paarth Adlakha) is mates with a local group of Auckland-based drivers for Team Global Express drivers, who follow a similar philosophy to that of Fuso New Zealand – 'We look after our own'. 
"We have a pretty close group and always look out for each other," says Kunwar. "One of our friends was down three drivers in one week, so my brother-in-law JD lent one of his drivers and I jumped in his other truck until he found replacements. We did it to help, so neither of us charged him a cent." 
As well as the support he gets from Keith Andrews, which helped him into three new FUSO Fighter trucks, Kunwar enjoys being a part of the local TGE network and doing work that he loves – but it's not what he originally set out to achieve.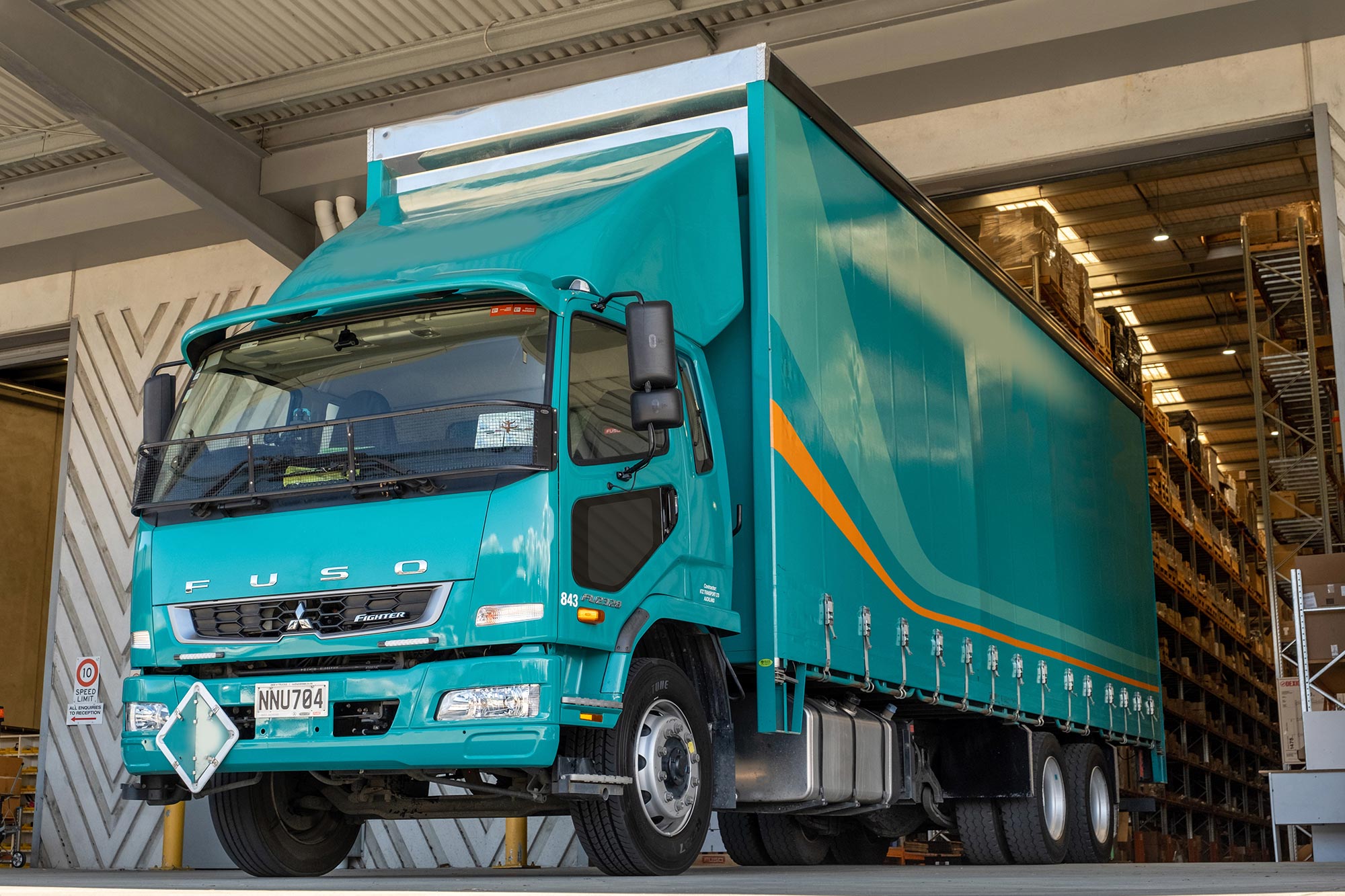 "I trained to be a chef when I first came to New Zealand from India – but life's about the journey, not the destination!" says Kunwar. 
That journey took an unexpected turn when he took a part-time job to support his culinary studies. 
"I started working in retail and realised I really liked it, especially the sales element – so when I finished my studies, I continued in that role." 
Despite a sabbatical to turn around a struggling Auckland restaurant, Kunwar quickly climbed the retail ranks and, before he knew it, was managing Noel Leeming's biggest outlet.  
For some, the journey would have ended there. Not for Kunwar – for him, an interest in transport and logistics soon blossomed. 
"I realised I enjoyed working in logistics and decided I wanted to get into the industry. Because my brother-in-law was already an owner-driver [OD] with TGE, he gave me an opportunity." 
Baby steps 
Kunwar started driving for JD to gain experience – and then Covid hit. 
"After lockdown was lifted, there was a huge backlog of things that needed to be delivered. I guess I was in the right time at the right place, because I got an interview with TGE and was given a chance." 
But that chance was not exactly what Kunwar might have expected.  
"Because of the size of the area TGE needed me to cover, I had to start out with three trucks," explains Kunwar. "It really was an all or nothing decision!" 
Kunwar was asked to cover an area from Henderson to South Head going north, to Coatsville in the east and Muriwai in the west.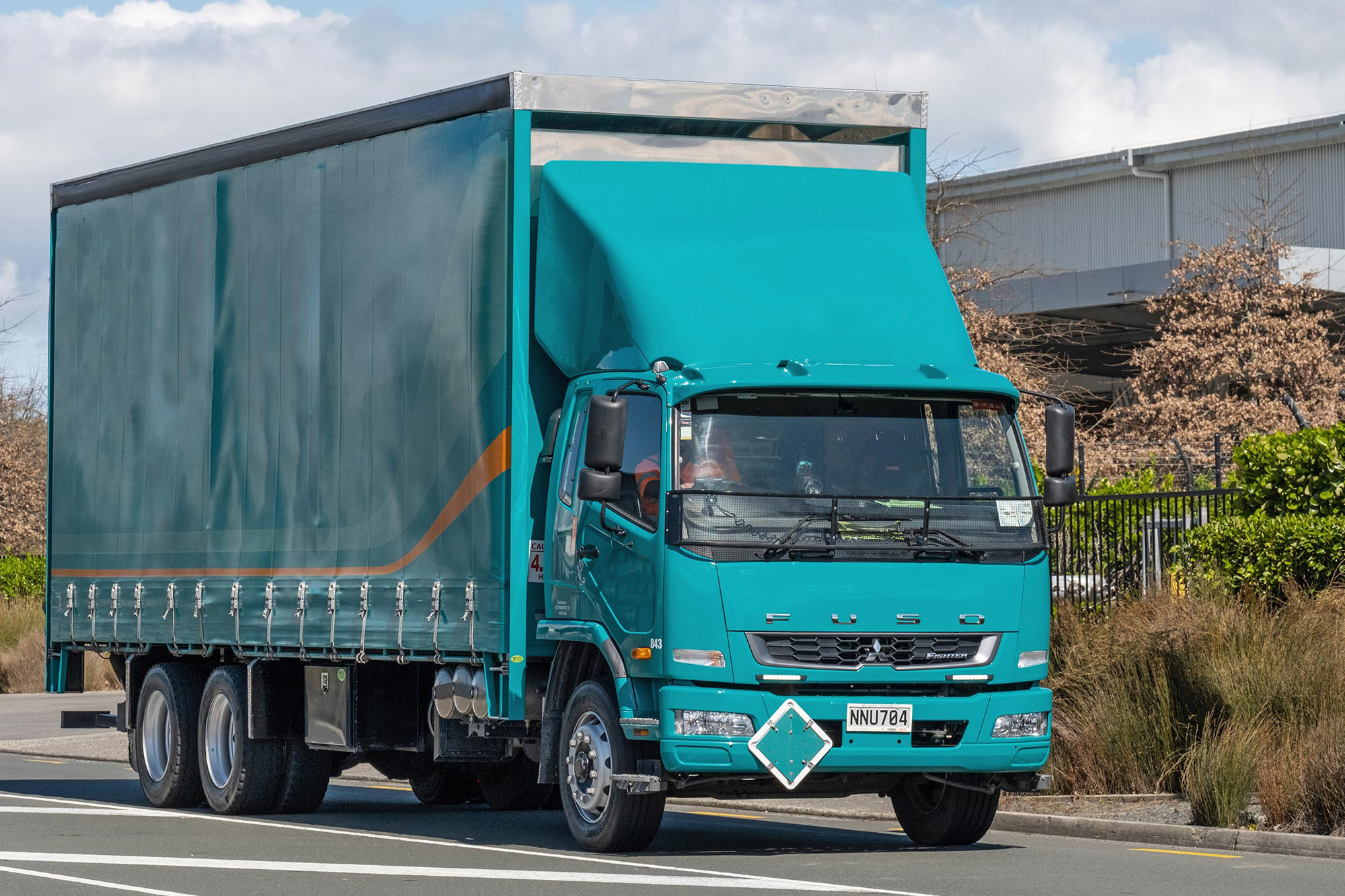 With such a big commitment, getting the right gear was paramount. After a short period leasing rentals, word-of-mouth led him to FUSO before his research confirmed what he'd been told by his fellow ODs. 
"When I talked to Keith Andrews about fleet options, I was treated brilliantly and that influenced my decision making," says Kunwar. 
The team equipped him with three FUSO Fighters for his general freight deliveries – one 4x2 FK1125 and two 6x2 FU2328s. 
The best of both worlds 
The 11T 4x2 medium wheelbase model delivers up to 250hp / 761Nm and was fitted with a low-height curtainsider. 
"We kept the height to just 3.7m to make sure there are no clearance issues on semi-rural deliveries. I lose out on payload, but it's worth it because it means I can service those customers better." 
Both of the larger 23T models are higher powered at a maximum output of 280hp with up to 802Nm and are also fitted with curtainsiders. 
"Their low tare weight means I can easily fit 16 pallets in the 6x2 trucks, compared to the 14 I've seen on competitor models. That means I can get deliveries out faster and I'm earning more because of those two extra pallets.  
"It also means I can hit my performance targets, which strengthens my relationship with TGE."  
All models are fitted with highly efficient and reliable Allison automatic transmissions.  
"We're doing up to 300km a day on semi-rural deliveries, so I needed a reliable, rugged truck that's built to last and that's what I get with Fighter. 
"They're also very fuel efficient. Compared to the rental trucks I was driving when I first started with TGE, my fuel costs are down 30% per month!"  
A community that comes together 
It's safe to say that culinary-trained Kunwar has given Fighter a chef's kiss – the ultimate seal of approval. 
"Fighter matches my needs perfectly. It's reliable, cheap to run and I have maximum peace of mind thanks to FUSO's five-year extended warranty. Other brands only offered three, which makes me feel as though they don't have as much confidence in their product as FUSO does."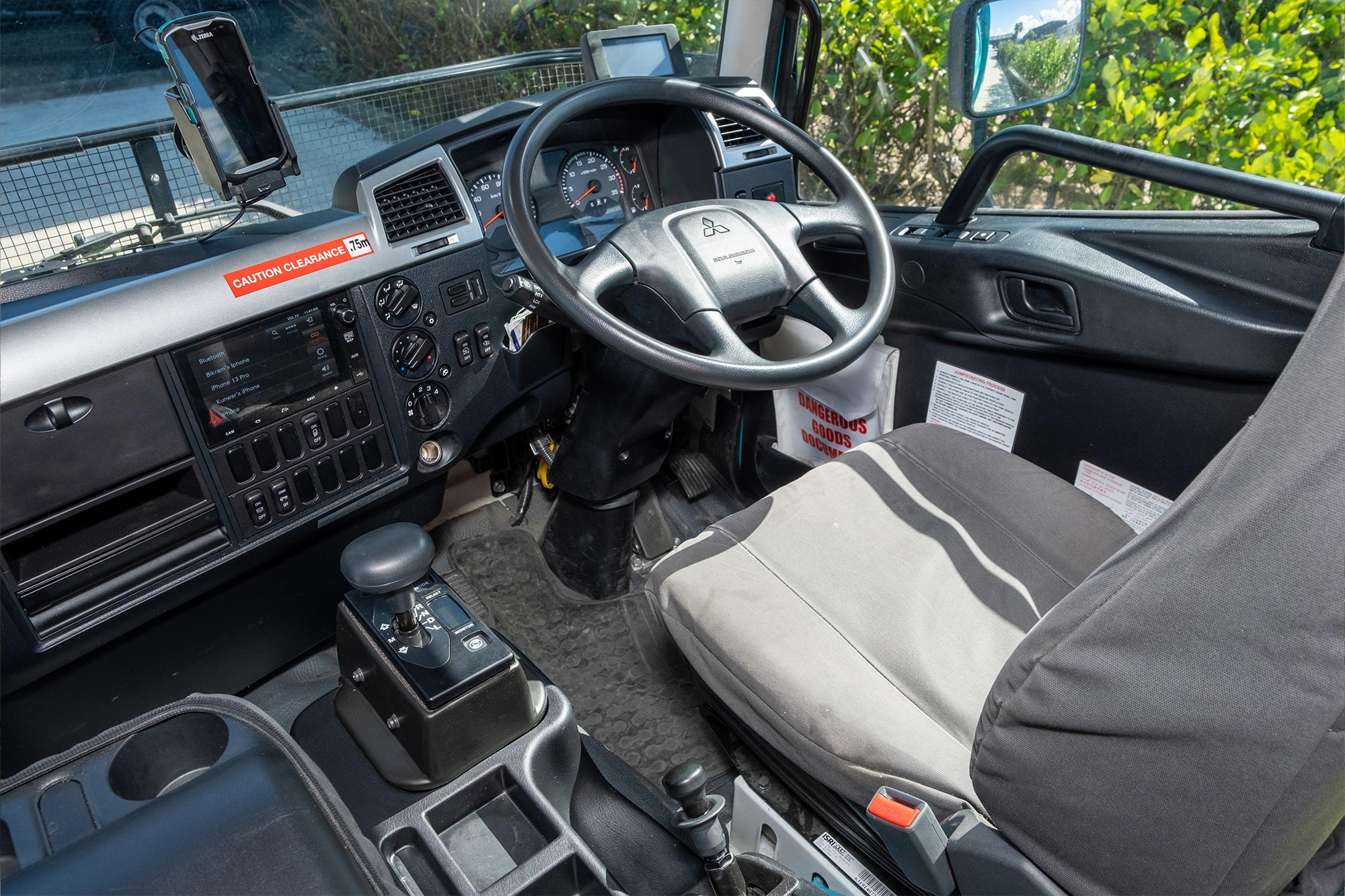 "I now have three drivers working for me, while I manage the business and act as a spare driver." 
As someone who understands the value of good customer service, Kunwar is full of praise for how he's been treated by Keith Andrews. 
"When I need parts, they're available in a few hours and my trucks get back on the road quickly. 
"Once my brake light cover broke and there wasn't one in stock, so Keith Andrews gave me a brand new light and only charged me for the cover – and I still took home the whole light! I had to get a COF done that day and I knew I wouldn't pass without a brake light cover, so they really  saved my skin. I'll always remember the service I got that day." 
With trusted support and a reliable fleet of Fighter trucks delivering to customers and to his bottom line, Kunwar has all the ingredients for success. 
Keep it in the family! 
Kunwar's brother-in-law JD Singh runs ten FUSO trucks for TGE on deliveries from East Tamaki to Mount Wellington and the entire CBD. 
"I have nine FUSO Fighters in a mix of 4x2, 6x2 and 6x4 models. I also have a Shogun truck and trailer for my bigger metro deliveries." 
"I like the low tare of the Fighter and it's really good in metro areas; easily manoeuvrable on city streets!"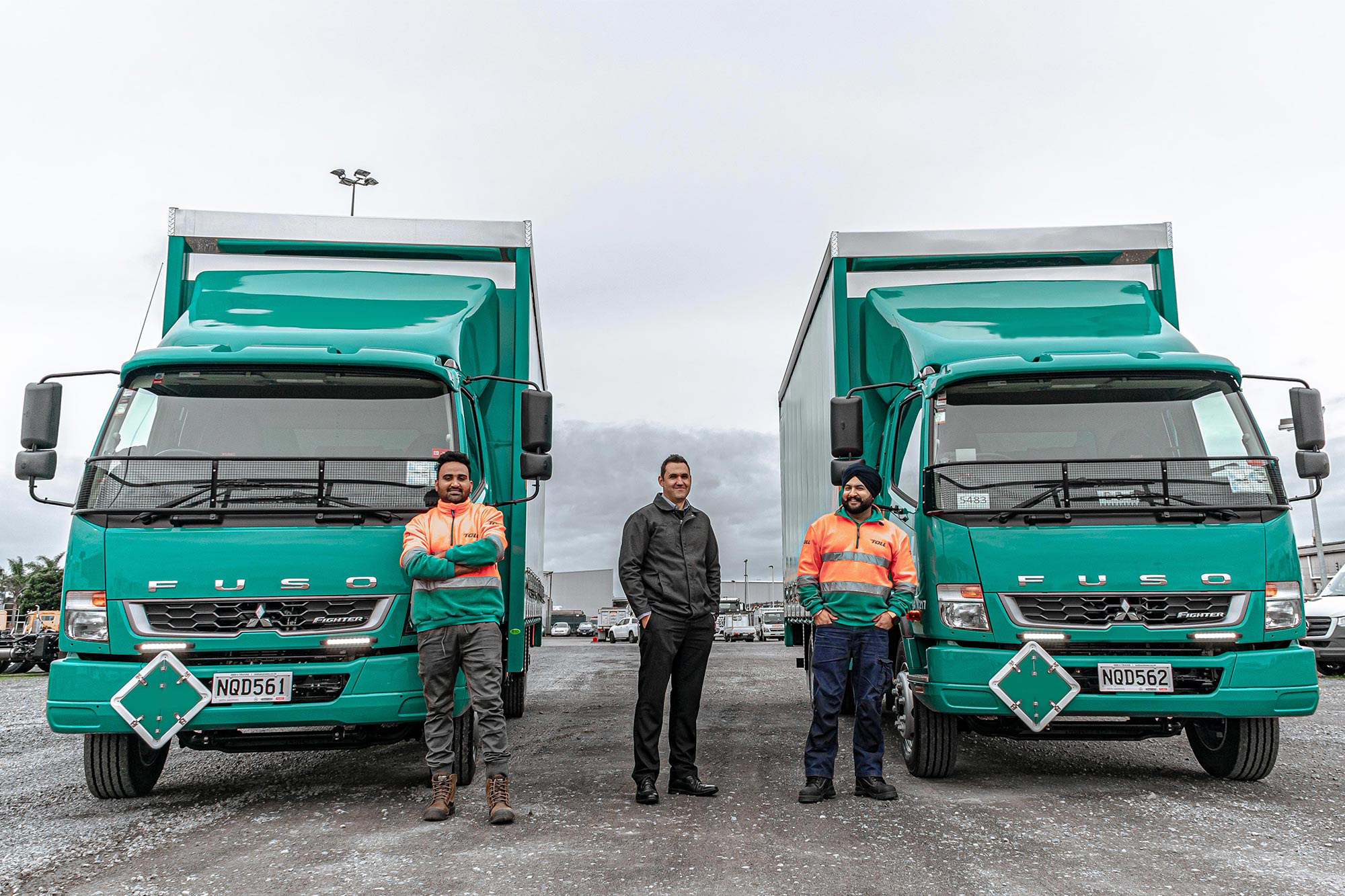 JD is very much a part of the supportive driver community that Kunwar enjoys and says they're a great bunch to be a part of. 
"We're all very much mates and we'll help each other out if needed. I actually introduced everyone to FUSO and I think there are around 40 FUSOs now driving routes for  TGE around Auckland." 
The owner-driver has been with the company for 11 years now and is also responsible for bringing a number of friends on board as owner-drivers. 
So, if you see a TGE truck go past and it's a FUSO, you can bet your bottom dollar it's one of JD and Kunwar's crew! 
To see how the Fighter can work for you, get in touch with FUSO today!