Feature Article
Fuso's top techs put to the test
First place: Allen Whitaker – Prestige Commercial Vehicles, Invercargill (wins a HP laptop +


4 Channel

PicoScope)
 
Second place: Mac Sykes – Keith Andrews, Whangarei (wins an SP toolbox +

tools

)
 
Third place: Ethan Higgins – First Commercials, Palmerston North (wins a Fluke multimeter)

The Master Technician Competition was established last year to recognise and reward the expertise of top-performing individuals across New Zealand's FUSO service network.
"We're creating a culture of friendly rivalry and self-improvement, which is a win for our team and for our customers," said Fuso NZ managing director Kurtis Andrews.
"Congratulations to Allen for his second win. Not only does this prove he's at the top of his game, it shows we have the kind of people in our network who take real pride in their work over the long term." 
Fuso NZ national training manager Mark Woodley said Allen's victory was "thoroughly deserved" following another challenging and closely fought competition.
"It's far harder to win a second time. There's the pressure of other people's expectation that you'll win it. It requires just as much hard work and commitment – you can't become complacent.
"Our goal is to keep raising the bar and, to encourage that, we really put our finalists to the test. Having representatives from different corners of the country on the podium demonstrates the strength in depth we have across our network."
The competition
Open to all service technicians, foremen and apprentices in the FUSO network, the competition consists of three assessments to narrow the field to five finalists.
The top five are invited to Fuso NZ's Auckland training facility, where they take one theory, one customer presentation and three practical tests covering technical knowledge, customer service, diagnostic process and overall efficiency.
The judging panel has a wealth of collective experience in the field, consisting this year of Fuso NZ National Training Manager Mark Woodley; National Service & Technical Manager Drew Forsyth; Technical Advisor Luke Gillson; Warranty Administrator Ian Knapman-Smith; and Service Specialist Trevor Moreland.
The two finalists who didn't make the podium are Joshua Padgett (Keith Andrews Whangarei) and Matthew Schofield (Diesel & Equipment Services Ltd Wellington).
Winner's perspective
Allen Whitaker said winning again "felt good" and that he enjoys being part of the FUSO family.
"I really wasn't expecting to win it again. I came in with the same motivation as last time, just wanting to test myself.
"I've taken so much out of it each time I've competed. It's a good opportunity to expand my product knowledge. The training from Fuso NZ throughout the year also really helps.
"There are a lot of great technicians in the network, and they're great people to boot. We've got a good crew down south. PCV invests a lot into training and allows us to apply ourselves and grow, depending how much we want it.
"I enjoy providing solutions for customers and, on top of that, I love working with trucks and being a mechanic. When I was in Tokyo as part of last year's prize, I had the chance to drive an eCanter and Shogun. They're both very exciting products and I look forward to being able to work on them going forward."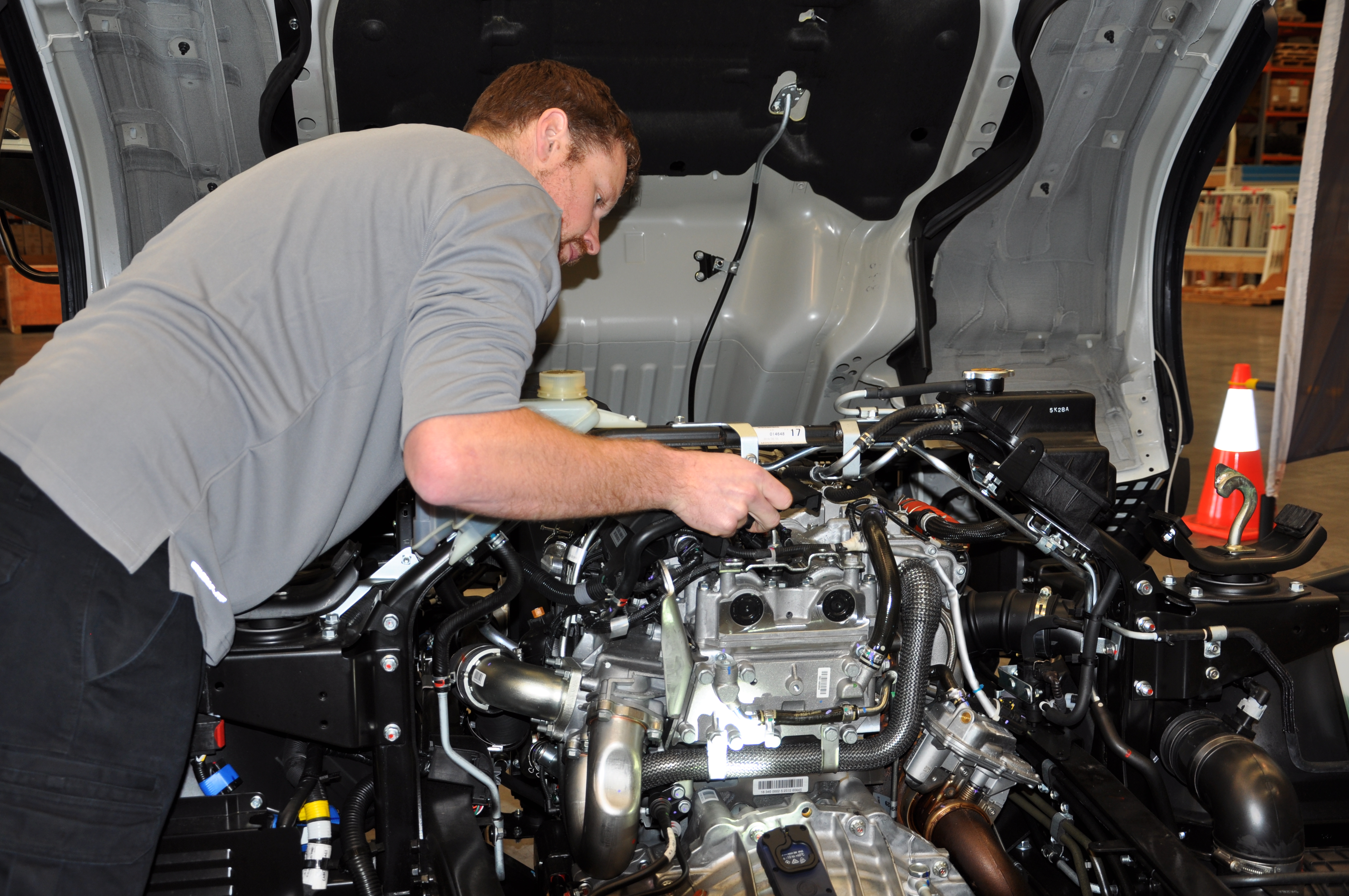 All good in the hood – Allen Whitaker showcases his winning expertise. 
Main picture: Raising the standard – (l-r) Fuso NZ National Service & Technical Manager Drew Forsyth; Ethan Higgins (FCL, Palmerston North); Allen Whitaker (PCV, Invercargill); Mac Sykes (KAT, Whangarei) and Fuso NZ National Training Manager Mark Woodley.