Feature Article
Groundbreaking partnership
Back when the transport industry was under strict government control and businesses needed a licence to operate, starting a new company was hard. David Conroy was one of several budding entrepreneurs stuck on the outside looking in. 
David found a way in by purchasing an existing furniture removals business in Napier and the old Ford D Series that came with it. Not long after, a game-changing new Japanese truck brand entered the New Zealand market and helped this ambitious young operator get some of his innovative ideas off the ground. 
"The first FUSO I bought was a medium-duty Fighter FK315," says David. His latest FUSO, 45 years later, is a Shogun FV2446 Tractor unit. 
As his business grew, his fleet did too. It now numbers 84 with a strong proportion of FUSOs in the mix, including Canter, Fighter and Shogun models. 
"We now have branches in Auckland, Christchurch, Cromwell, Nelson, Tauranga and Wellington," says David, who is still based at his HQ in Napier. 
The newest Shogun operates in Christchurch under the supervision of operations manager Mark Carter. 
"It does a lot of work around the South Island, servicing anything from household removals to shop fittings," says Mark.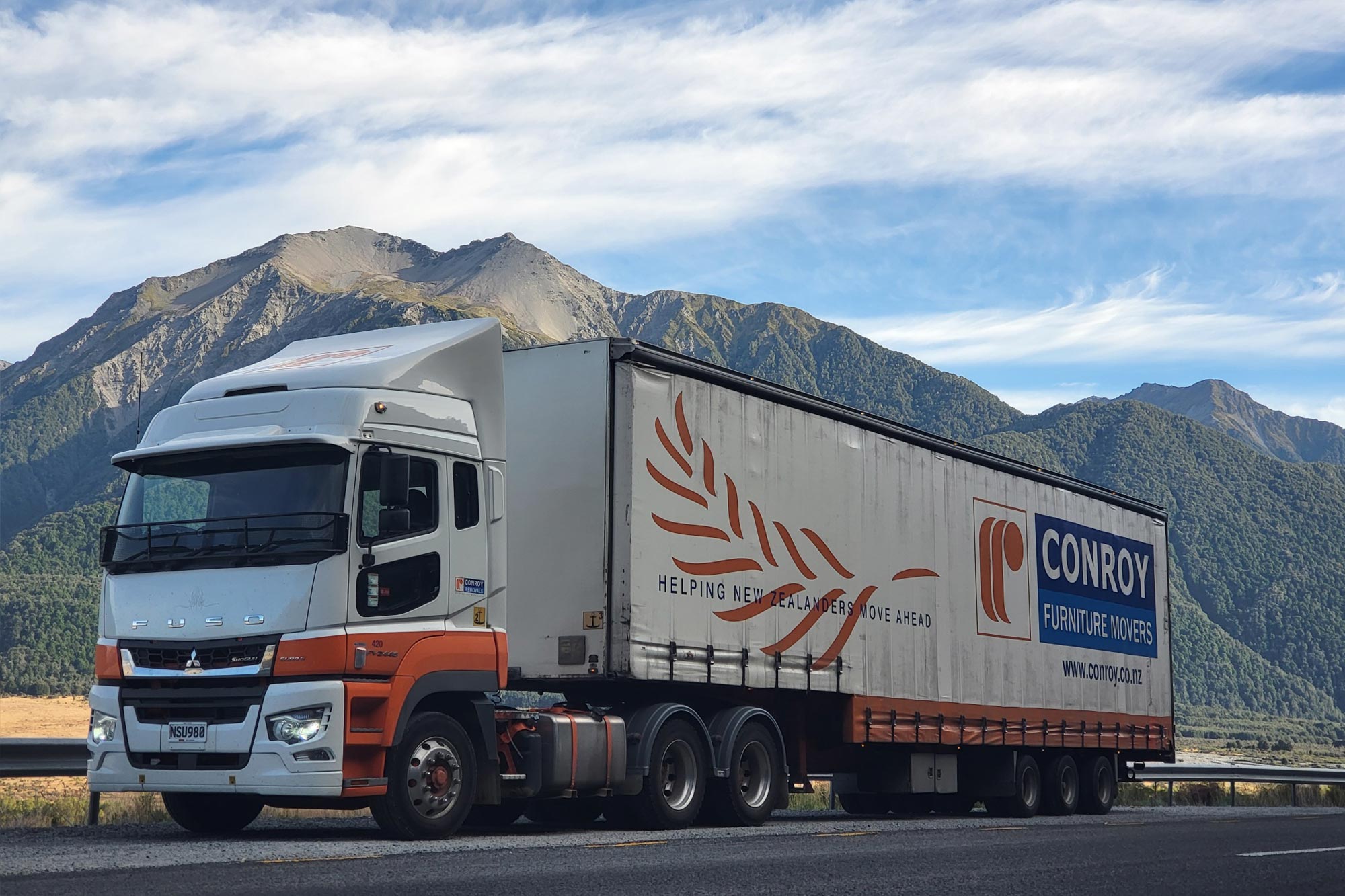 "Our driver Craig loves it. It's comfortable, he loves the safety features and the power and torque tick all the right boxes. He says it handles the Hundalee Hills between Kaikoura and Christchurch with ease – a stretch of SH1, which winds sharply around the edge of several hills." 
Hauling a three-axle trailer with a 100m3 fiberglass body, a tandem trailer with two containers, or a five-axle B-train with three containers makes no difference to the pulling power of the 460hp Shogun, says David. 
"With the B-train, we'll weigh in at about 36T. Some days they wouldn't have much weight on them at all. I sometimes say we run candyfloss compared to other transport operators, but regardless the power and performance is always excellent." 
Shogun's cab comfort and advanced safety features such as Active Attention Assist give David, Mark and their drivers added peace of mind. 
"Drivers can be loading and unloading the truck all day, then driving for three hours to the next stop. It's tiring work and having a system that monitors for signs of fatigue is great," says Mark. 
To make loading and unloading as easy as possible, Conroy's custom-built bodies are fitted with a tail lift.  
House removals can sometimes pose operational challenges, with tight driveways and residential streets lined with cars. Luckily the Shogun's tight turning circle and overall excellent manoeuvrability can overcome most challenges.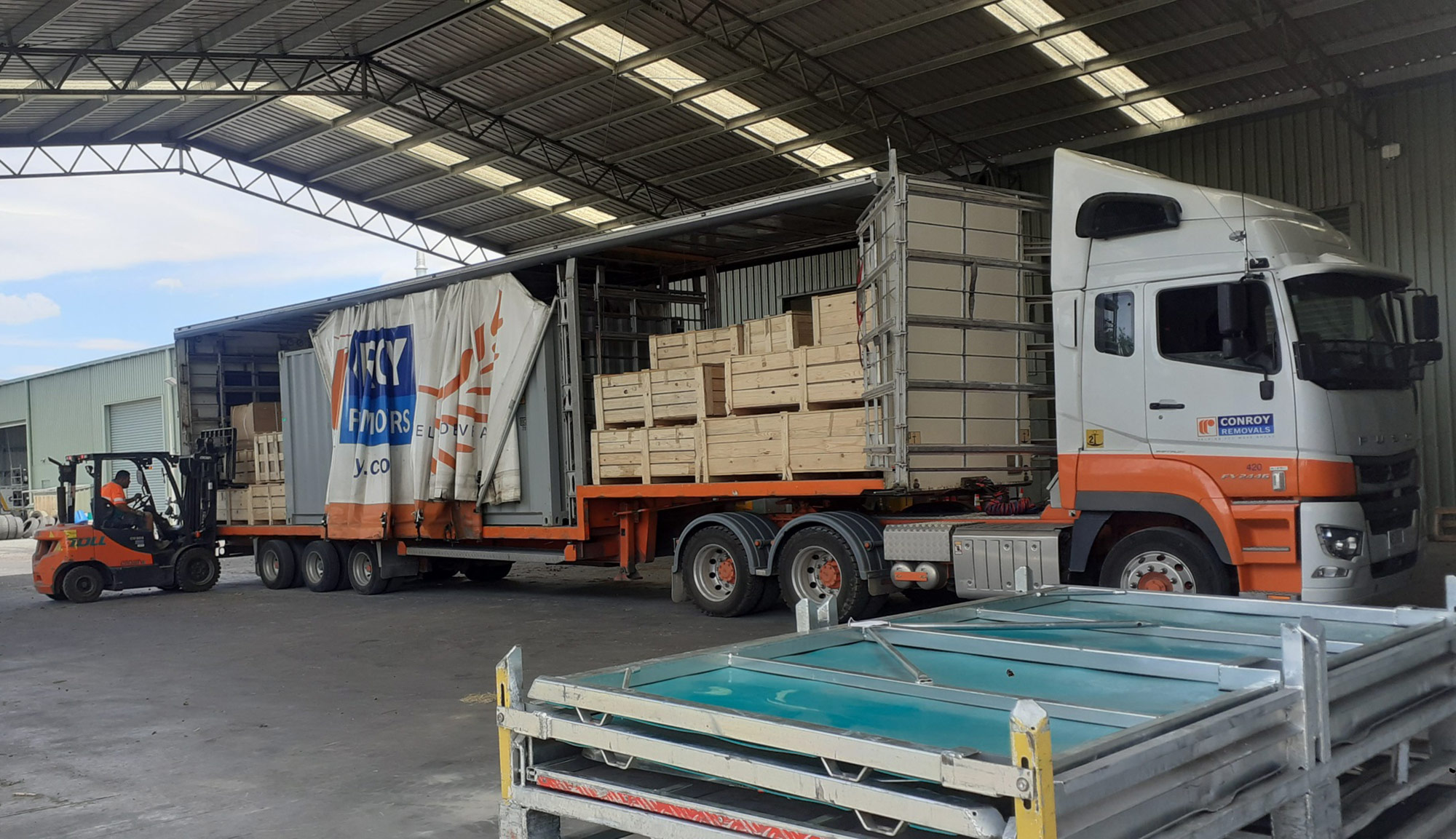 "We operate in some tight spaces, but the truck (and Craig) handle it really well," Mark adds. 
Each unit will do about 2,000km a week and will run for five years before being "pensioned off" onto easier around-town jobs. 
On those longer trips, the Jacobs engine break plays a significant role in reducing running costs. 
"If we didn't have such good engine breaks on these vehicles, the cost of maintenance would be huge, so we're very happy with Shogun in that respect," comments David. 
When maintenance is required, David relies on FUSO Genuine Parts and Service.  
"But to be honest, we don't have a lot of breakdowns, because the equipment is all modern and reliable." 
Modern equipment also means greater efficiency and the Shogun is no exception. David recently received his highest monthly fuel bill in 49 years but is impressed by the efficiency of the Detroit® inspired 11-litre Euro 6 OM470 engine and ShiftPilot AMT on the Shogun. 
"Our fuel bill has nearly doubled in 12 months and I nearly died when I saw the latest one! It could have been worse if we didn't use modern trucks. The Euro 6 engines are definitely more efficient." 
While technology continually evolves, David happily calls himself "old school" and apart from the reliability and efficiency of FUSO trucks, one of the reasons he has stuck with the brand through the years is because of the trusted relationships he has developed over the years. 
Nearly 50 years on from busting into a closed market, Conroy Removals is stronger than ever –growth has actually soared during the Covid pandemic. David and his team continue to investigate ways of breaking new ground with the proven reliability and versatility of the FUSO range to back them all the way. 
As David says: "As a brand, it's right up there with the best." 
Read about Conroy Removals' legacy! 
Explore the FUSO range.