Feature Article
Inch perfect with FUSO
There's barely a breath of wind and just a few wisps of white, fluffy cloud in the bluest of skies when we catch up with Cameron in the historic Hutt Recreation Ground. Established in the late 1800s, the immaculately kept home of the Hutt Old Boys Marist Rugby Club, and sometime training ground for the All Blacks, is particularly inviting on a fine Wellington day – but there's work to do.
While Dan Carter might not rule the turf any longer, the Mexted crew operates with a precision and efficiency that could make the nation's most celebrated goal kicker blush.
Their job is to make sure that the tree-lined ground remains in pristine condition – not just for rugby, but cricket, athletics, football and softball. From the impeccably drawn white lines that mark out of the field of play to the perfectly mown, rich green grass that sprawls out before the grand old pavilion, Mexteds takes care of every detail.
Its two new FUSO trucks – a Fighter and Canter – are at the heart of the operation. 
Cameron recruited the 11T medium wheelbase Fighter and 7.5T Canter to carry the drive-on mowers and groundkeeping tools that help keep this and other local sports grounds at the top of their game. 
"Other brands weren't really in the conversation," says Cameron. "For us, FUSO is tried and trusted."
One of his earliest memories is sitting in the cab of his dad's old FH Shogun, lugging logs over the steep, winding Remutaka Hill Road between Wellington and the Wairarapa.
"I just remember Dad pulling over to let traffic past, getting 'thank you' toots and being amazed at how big the truck was and how skilled my dad was at driving this huge vehicle over that hill." 
Twenty-four years later, the old FH is still in use and fresh from passing its COF!
"That reliability meant we went straight for FUSO for these new trucks," says Cameron. His drivers couldn't be happier.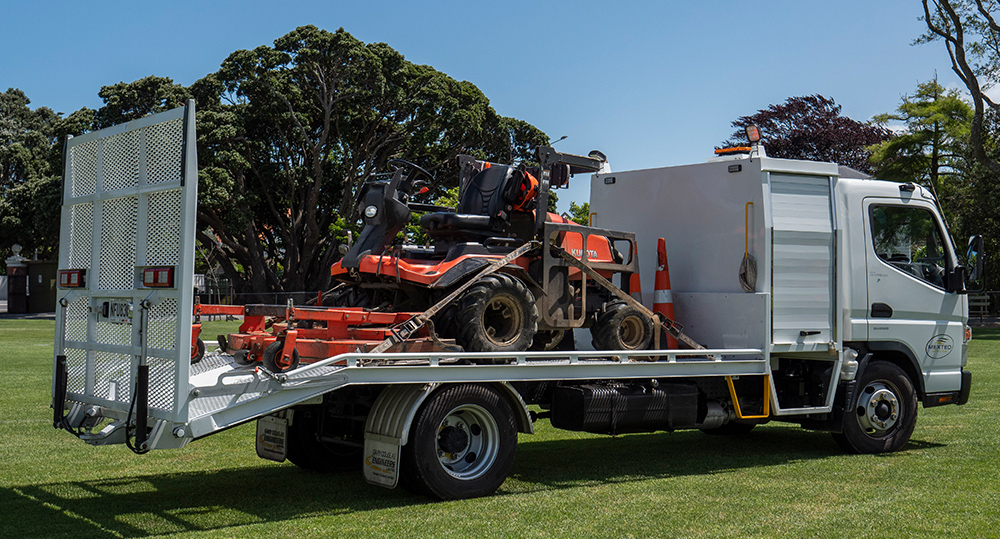 Veteran truckie Mitch Fowell calls his Canter the "Rolls Royce of trucks" with a big laugh and a glint in his eye. Compared to some of the older rigs he's driven over 30 years in the industry, and the number of 18-speed Roadrangers he's wrestled, it might actually feel like that – but he's still old school at heart. 
The Canter's wing mirrors are heated, but Mitch still leans out and wipes them down on a frosty morning. Having covered countless kilometres in B-trains, he's more than content to cruise around town in a Canter.
"It's really good to drive. It's comfortable, the DUONIC transmission is really smooth and it's easy to get around tight spaces," says Mitch. "I have to take it on grass and it goes great, even in the wet. It doesn't slip, it just breezes along. I'd recommend it to anyone. I think FUSO has done a great job."
The Canter is fitted with a flat deck and beaver tail, which makes it easy to load and unload the 2.2T rotary mower it carries on the back. A lockable cabinet with smooth pull-out tool drawers and shelving is used to store other ground keeping equipment and supplies.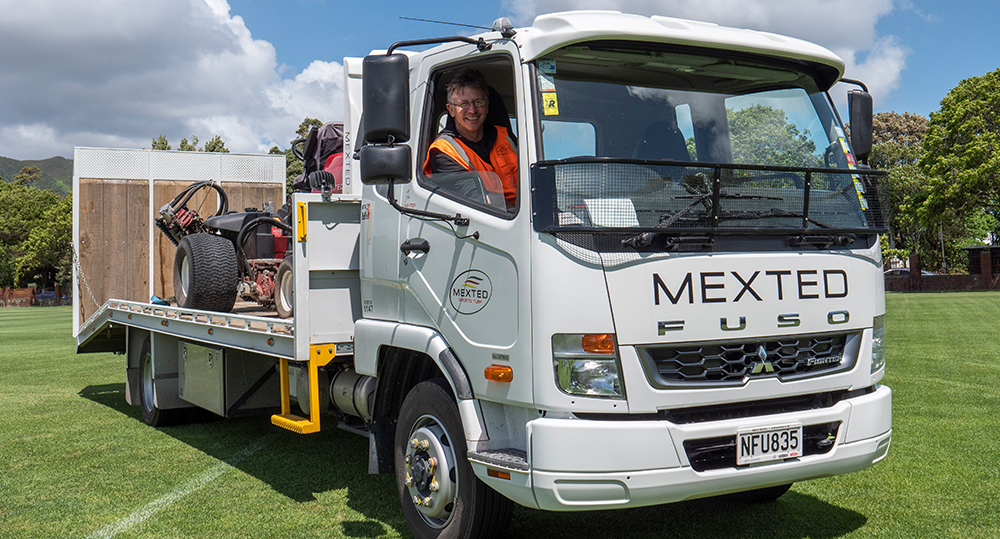 The Fighter is similarly kitted out with lockers, flat deck and beaver tail – plus a winch to transport heavier equipment, such as rollers. Its main job is to carry the crew's reel mower, which is much wider than the rotary on Mitch's Canter, but weighs in at just 1.5T. 
"It provides a much finer cut for those nice flowing patterns on the pitch that you'll see from the pavilion," explains Cameron. "But because it's that much bigger, we needed a bigger truck to carry it."
David Smith, who has been driving trucks "on and off" for 35 years, is behind the wheel of the Fighter. Despite his experience, it's the first time David has been in charge of an auto – and he loves it.
"It's nice and easy to use, plus it's got plenty of grunt! I take it over Wainui Hill [one of the steepest roads in Wellington, with an average gradient of 10.3% on one side] and it just flies up. The Allisson transmission is really well matched with the engine. It turns really well in tight spots too!"
"The kilometres they do gives these trucks an easy life," explains Cameron, "but they do a lot of stopping and starting and around-town runs, which is why the automatic transmission was important for us. We also wanted both trucks to be easy to manoeuvre and fit for purpose in terms of size and fuel economy."
An added bonus for Cameron is that the Canter comes with advanced safety features as standard – active emergency braking, lane departure warning and electronic stability control.
"Those features weren't something we stomped our foot down for, but when we heard about them, it vindicated the decision for us," says Cameron. Across the business, Mexted Sports Turf relies on quality tools to maintain the highest of standards that not only Cameron himself, but the sporting elite, insist upon.
"All of our guys take great pride in their work, and that reputation has helped us win top-level contracts, such as the work we've recently done at Eden Park for its turf replacement project." 
With ambitious goals and the skills and gear to achieve them, it looks like Mexted Sports Turf is in safe hands with Cameron calling the shots.