Feature Article
A little honey in the vines
If you go down to the vines today, you're in for a nice surprise. If the vines are in Blenheim, the surprise is likely to be a wee Fuso Canter spreader as cool and classy as the best sav the region can make. 
They say timing is everything, and Blenheim's Centaland is undoubtedly a company that found itself in the right place when Marlborough's viticultural escapades went bonkers around the turn of the century. As a landscape and fertiliser supply business to the wine, rural, and residential markets, there are no dull days among the cheery Centaland crew as they go about their work at the foot of the Wither Hills. 
The company's transport manager is Phil Wadsworth and he encompasses the Centaland vibe perfectly. He is a native of the region, and a career trucker. He cut his teeth at Renwick's Broadbridge Transport and went on to drive gear of all sizes the length and breadth of the nation. Today, he has a mixed bag of kit under his wing that includes everything from nine-axle HPMV combinations to small trailers that 'Bill and Myrtle Claggthorpe' can use to take their half-meter of mulch home. 
But the piece of kit that really has him buzzing currently is the company's latest acquisition, a Fuso Canter 616 city cab 4×2 spreader. 
Wow! 
"It's been a cool project," says Phil. "We wanted a finished product that was a reflection of both us, and the region's wine industry." Neither are his words without weight. Like the wine industry that's so much a part of their business, Centaland's swept yards are crisp, clean and classy — with nothing out of place. 
"There were a number of people involved, and they all 'got' it. We spent what needed to be spent to get the truck we wanted, both in terms of productivity and presentation." 
To be honest, you don't, as a rule, associate Fuso's little toiler with the glamour end of the industry, but the moment you walk around the corner of the big shed in Centaland's yard, this little treat has you in her clutches, and your first reaction is, 'Heck that's neat!' All liveried up, the roof-mounted camera and light fixing – fabricated by Centaland's in-house workshops – has a 'Kelsa- esk' feel about it, and the alloy guards and thoughtful assembly proves it doesn't take much in terms of effort to make a world of difference. 
Feeling the love 
Sourced through Anthony Edyvean at Cable Price in Christchurch, Phil started with the Fuso Canter 616 chassis at 5,995kg GVM, fitted with the narrower city cab at 1.695m overall width.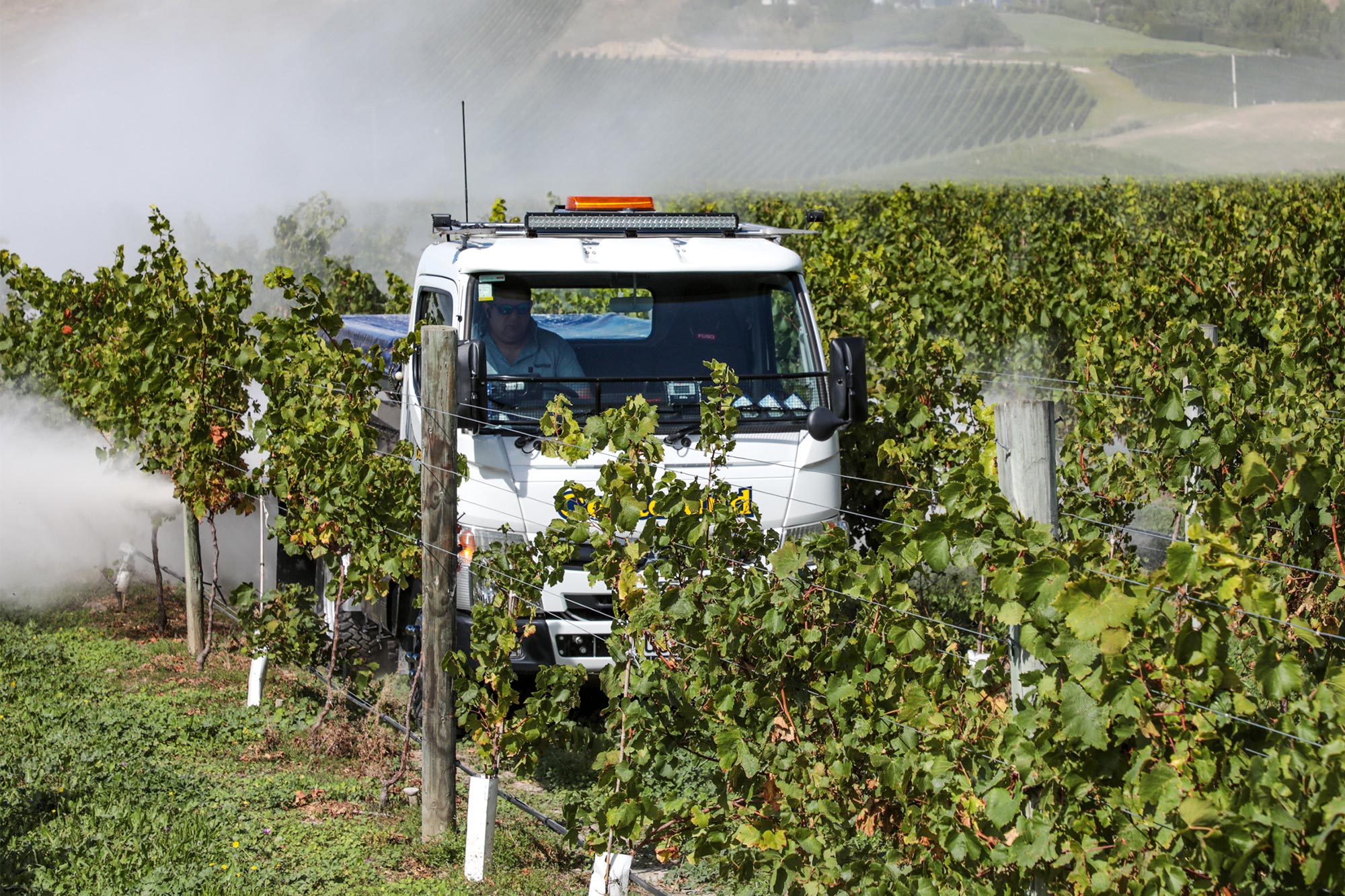 Obviously, the smaller accommodation was chosen for its ability to fit snuggly between the endless avenues of Vitus vinifera that cloak the region, and the desire for a trim figure didn't stop there. 
Phil explains: "We wanted the Japanese-style in-board mirrors that mount on the front quarter-panel, but they weren't available ex-dealer. Initially, we thought we'd have to swing the mirrors in and use the cameras on the roof bar for rear view in the narrow rows, but then we found a source for the mirrors and panels, and so now we have the best of both worlds." 
With SI-Lodec's Mike Long on board, Phil found a second-hand Giltrap body for sale in South Canterbury. 
"The body had been on a spreader trailer and had stainless-steel hard-line pipes. It was unmarked and perfect for what we wanted. Being second-hand, it meant we saved a few dollars that we could put elsewhere in the project." 
Phill tapped into Mike's extensive history of trailer building, getting him to fabricate the subframe and scale mounts, and then attach the bin to the chassis. 
"The scales were a really important part of this build," said Phil. "We do some really low concentration mixes – 50kg to the hectare, sort of stuff. It's no use having even half a kilogram left at those concentrations because that will have a huge impact on the required application. The scales reconcile the Whitehead spread controller. I'll do a short run, check 'everyone' agrees on what's going out the back, tune accordingly, and then we're off. To date, it's been amazing, reaching the end of applications with a perfectly empty bin and a zeroed- out controller and spread software. The customer is getting exactly what they want." 
"It's been such a rewarding build from our point of view," says Mike. "We used SI-Lodec for this one. The brief from the customer and their willingness to ensure both presentation and productivity were on point has resulted in a little truck that everyone is really proud of."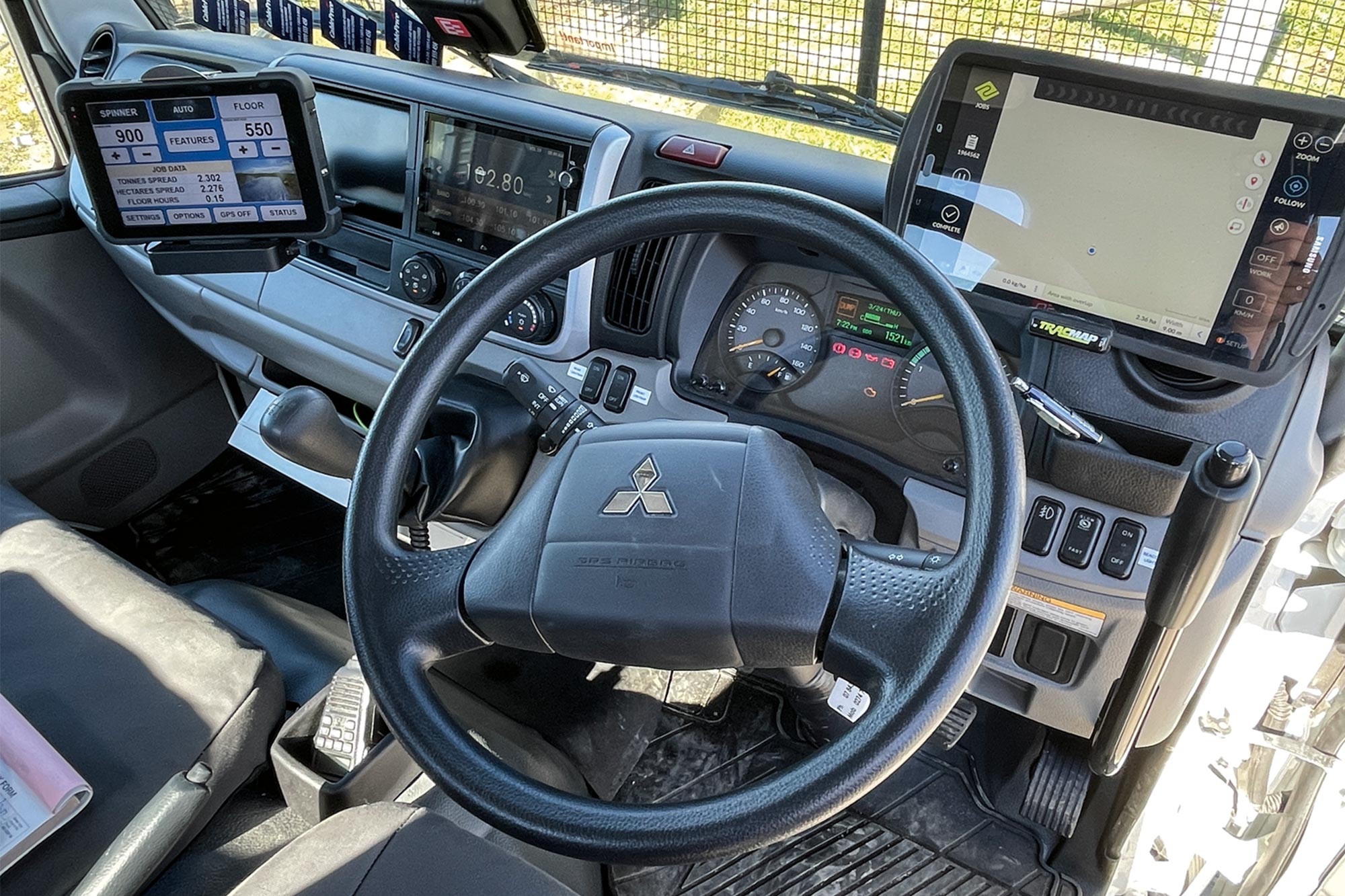 The other key person in the project was spreading guru Travis Churchill of Amberley Truck and Auto, Spreadtest NZ, located in North Canterbury. Travis fitted the Tracmap GPS system and Whitehead V3 Plus spread controller, connecting and plumbing the whole thing up perfectly. 
"He's so good at what he does," says Phil. "He told us to mount the spinners so the veins directed the product inward towards the shrouds, forcing the product low and out, giving far more directional control." 
How does it all work? And, how does it all work? 
Phil was out at the St Clair estate on Ben Morvan Road to flick a bit of lime about, and we were invited to tag along. 
On a glorious autumn day, the whole scene looked a picture, and there's no doubting the Canter fits right in from the aesthetics perspective. But its game- face is equally slick. 
In front and to the side of us were what seemed an infinite number of rows burgeoning with this year's crop of grapes. 
"The Tracmap GPS provides the application plan that the Whitehead spread controller then follows," explains Phil. "We receive the spread maps from the customer detailing the application required based on the soil tests they've undertaken. The controller then increases or reduces the application rate based on geofences as the truck drives around. It sounds complicated but with a couple of days under your belt, you'd be a pro. 
"The way Travis has set this up, we're certified for a 22m spread, which is really good for a machine of this size and height.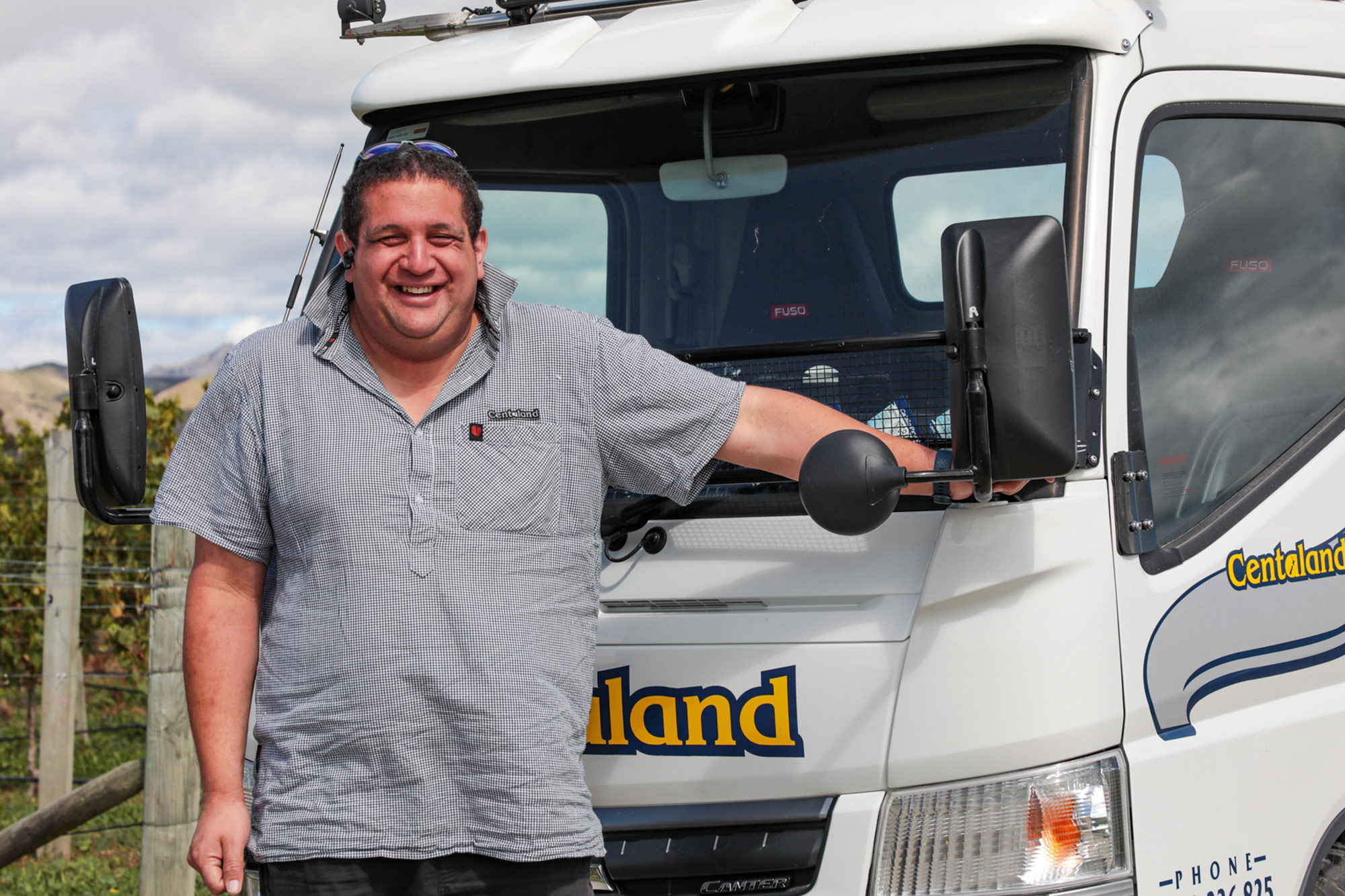 "It's been superb. Plain and simple. Covid meant it was a little later arriving than we thought, so it arrived right in the flush of the spring season. There was no shakedown, it was in boots and all, and it hasn't missed a beat. When things are really humming, it can be double-shifted, and we would expect it will in the vicinity of 1000ha in a season. 
"Our older spreader, an Isuzu, is four-wheel drive and this is a two, but with the limited slip diff, it's had no issues. In fact, there's nowhere the Isuzu can go that this can't. 
"The body is demountable, and the plan is to make a deck, tip body, and watertank for it, but the way things are going with growth in the region, it might well be kept flat out on this. It will get a regular driver, but I've just loved driving it. I don't want to get out," laughs Phil. 
We'll leave the last words to Centaland owner Geoff Senior, who is as enthusiastic as anyone about their latest addition. 
"Everything we've spent has been worth spending. We don't regret anything we've done in getting to the end product we have." 
The article first appeared in New Zealand Trucking and has been republished with permission.